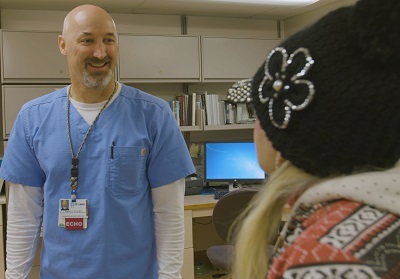 St. Luke's team members not only know an opportunity when they see one, but go back to school, take additional training and jump in as soon as possible.
St. Luke's McCall's Travis Reese is a great example of seeing a need, addressing it with his team and developing a plan to meet it.
Last year, Reese, a St. Luke's McCall respiratory therapist, was working to schedule a patient for an echocardiogram and noticed there was a backlog of available appointments. Patients were waiting four to five weeks to get tests done.
An echocardiogram, or echo, is an ultrasound of the heart that produces live and still images and color Doppler to reveal the chambers, valves and contractility of the heart. It can also detect blood clots and diseases that affect the heart muscle, such as cardiomyopathy or reduced function following a heart attack. It's common for physicians to order echo tests for patients showing signs of heart problems like an irregular heartbeat, murmur or shortness of breath.
For nearly 10 years, echo tests have been available at St. Luke's McCall every Friday through a visiting specialty service provided by St. Luke's Heart in Boise. With the steady growth in the communities St. Luke's McCall serves, the demand for echocardiograms has surged.
"When a doctor orders a test to check the health of your heart, we want to get it done sooner rather than later," Reese said. "Many patients were choosing to travel to Boise, instead of waiting for an appointment in McCall."
Reese, who holds a bachelor's of science degree in respiratory care, began to explore the idea of adding registered echo-cardiographer to his resume. He had previous experience with echo tests during his medical training in the Air Force but they were never part of his primary assignment.
With overwhelming support from Reese's department manager, Chris Pekurny, hospital administration, St. Luke's Heart echocardiography department and Dr. Stefanie Fry, chair of St. Luke's Department of Cardiovascular Services, Reese was set to start training.
Earning credentials as an echo technologist is a two-step process, involving formal education and clinical experience with a preceptor, followed by exams after each step with the American Registry for Diagnostic Medical Sonography (ARDMS).
For his first exam, Reese attended an echo diagnostic and physics seminar last summer. The St. Luke's McCall Foundation provided financial support from its education fund, which assists hospital and clinic staff members advancing their educations and skills to better serve the health care needs of the community.
Reese has completed the first step involving ultrasound physics and instrumentation testing, training under the supervision of the St. Luke's echo department in Boise and Meridian. He is now in the second stage of his training and is developing his proficiency in echo studies before sitting for his final clinical exam this spring.
Reese now is able to conduct echo exams in McCall while a team in Boise views the images remotely in real time. His training continues, his proficiency builds – and patients get great care timely and conveniently.
St. Luke's is fortunate Reese saw an opportunity. He views it a bit differently.
"We are fortunate to be networked to Boise and have such phenomenal heart specialists that provide so much support and expertise to McCall," Reese said.