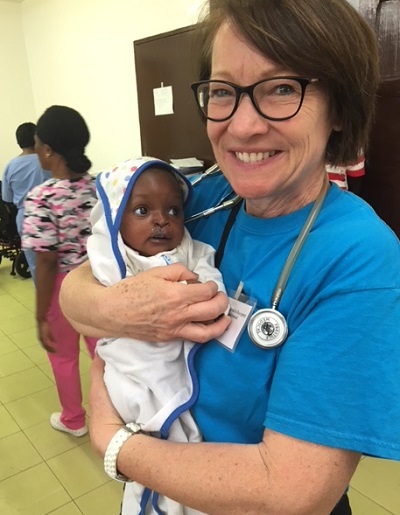 Louann Randall, a post-anesthesia care unit nurse at St. Luke's Wood River, recently packed up her bags and her skills to take them all the way to Liberia in West Africa as part of a 10-day surgical mission trip with a non-profit organization that provides free surgeries for children.
The team included four surgeons, five anesthesia providers, two pediatricians, several nurses and a few others that helped with logistics. Randall was joined by two siblings: an older brother who works as a nurse in California and her younger brother, a certified registered nurse anesthetist from Minneapolis.
Procedures performed by the team included cleft lip, cleft palate, hernia repairs and pediatric urology surgery. They screened over 150 children and provided surgery for 100 patients over four surgery days at Duside Hospital. Patients traveled from different places in Liberia to the hospital after hearing about the free services on the radio or by word of mouth.
"In some of the villages and areas of Liberia it is still believed that a child born with a cleft lip has an evil spirit, and will be left in a field to die," Randall explained. "We had a mom last year that ran away from her village with her baby boy and hid because the father wanted to kill him. She heard about the surgery team and brought him to have the cleft lip repaired and then went to live near other relatives for the baby's safety."
Randall worked on the pediatric ward caring for children after surgery. On their last morning they had 47 patients.
"They all spend the night at the hospital as many travel some distance," she said. "We work with the local nurses sharing care responsibilities and we educate them as we work together."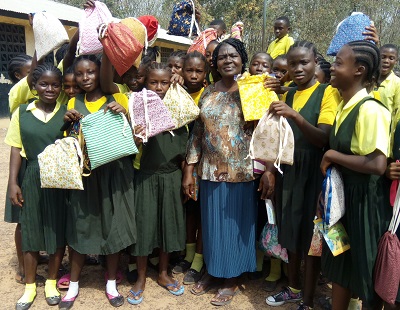 As part of a recent medical mission to West Africa, St. Luke's Wood River nurse Louann Randall sent feminine hygiene kits were sent to people living in Liberia.
Randall's trip was filled with memorable experiences. One of her patients was a one-month-old boy with a cleft lip and cleft palate. Another was an 8-year-old girl with a cleft lip. The girl and her mother had been shunned in the little remote village where they lived, and excessive bullying prevented her from attending school.
"The day after her lip was repaired as I came onto the patient ward she climbed into my arms," Randall said. "Her auntie had brought her and traveled quite some distance. We both had happy tears."
In addition to her work with the surgical team, Randall also helped with other projects. She spent two days with a group who helped deworm 4,000 school children. She also worked with a non-profit group to provide 600 feminine hygiene kits to people living in Liberia. In some communities there are no feminine hygiene products, and during menstruation women either stay home from school or use leaves, mattress stuffing or dirty rags. The kits contain washable products and will last up to 5 years. She is part of a group in the Wood River Valley that gather to sew the kits, and they expect to send more later this year.