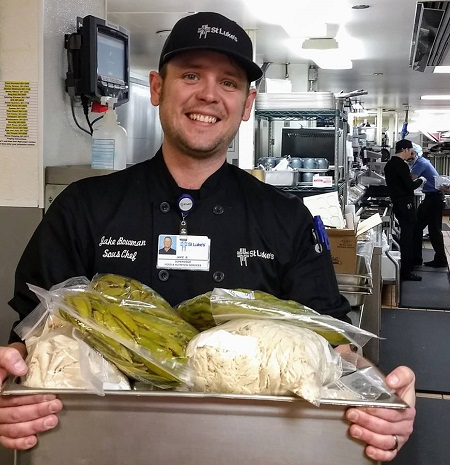 On Jan. 17, Julie D'Agostino delivered 40 pounds of sliced turkey and vegetables to the Corpus Christi House, a day shelter in Boise for people experiencing homelessness.
Less than 30 minutes earlier, D'Agostino had picked up the food donated by St. Luke's Food and Nutrition department.
It was the first effort in a new partnership between St. Luke's and D'Agostino's Rolling Tomato food recovery project, putting to use excess food.
As food insecurity continues to be a serious issue across the Treasure Valley, with many children, individuals and families struggling to find their next meal, according to the United Way of Treasure Valley's 2017 Community Assessment, St. Luke's chef Jason Jones and sous chef Jake Bowman are helping feed those in need through this innovative venture.
"To see Rolling Tomato gaining ground and becoming larger so they can work with both larger and smaller companies to use this food, it's amazing. It's a blessing," said Bowman, who joined St. Luke's in 2017. "Otherwise, a lot of these people wouldn't have access to food. For us to kind of do our part, it's extremely rewarding to be a part of a system that promotes that kind of attitude. I couldn't ask for anything better."
Food recovery, as D'Agostino points out, is about "locating and sourcing excess food from commercial kitchens that's been safely prepared and would otherwise be wasted in the landfill or in compost. Then, getting that perfectly good food that's just excess that hasn't been served and whoever made it does not have a secondary use for it, and finding a local nonprofit that can utilize it quickly."
D'Agostino's daily schedule includes taking calls from food service entities, like St. Luke's cafeteria, looking to donate excess food. She asks the donors to store the food safely in a fridge or freezer while she calls local nonprofits that might be able to use it.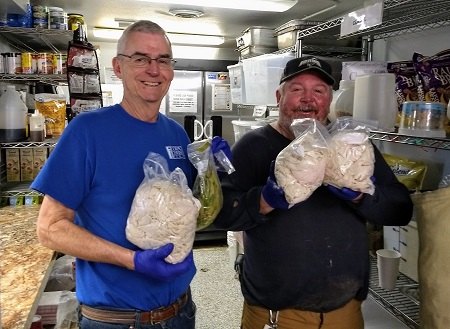 The Corpus Christi House is one of the local organizations receiving food donations through a new food recovery project supported by St. Luke's.
After setting up a pickup time, D'Agostino delivers the food within a half hour. She meticulously tracks the donations and recipients, allowing the donating organizations to know exactly where their food went.
"The donors seem happy, and the recipients are thrilled because it really helps them turbocharge the money that they would have otherwise spent on their menu and meal planning program," D'Agostino said. "So they can take that money and use it in other areas within the mission of their nonprofit."
D'Agostino created Rolling Tomato in November of 2016 after moving to Boise. To date, she has delivered more than 4,000 pounds of food to nonprofit organizations. D'Agostino plans to earn an IRS-approved nonprofit designation this year and hopes to expand food recovery efforts into Nampa and Caldwell.
D'Agostino and Bowman both said they are looking forward to continuing the partnership to help serve food to those in need.
"St. Luke's is a great organization. You can look down the line and see all the top level professionals cooking all this fabulous food," D'Agostino said. "Just to think that some of that is going to go to various local nonprofits, it's wonderful."