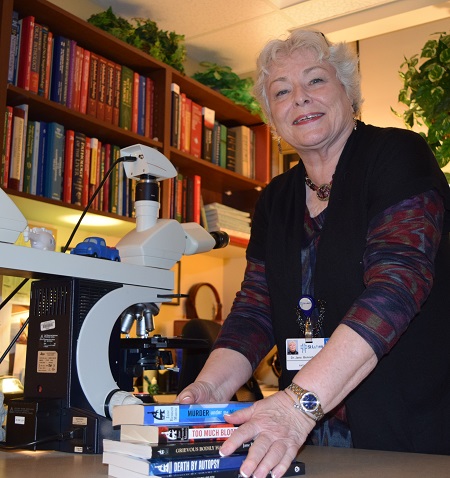 It all began with wanting to write about her work -- and became so much more.
Meet Dr. Jane Bennett Munro: pathologist and mystery writer. The author has five books under her belt and a new one in the works.
Dr. Bennett Munro, who has practiced pathology for 40 years in Twin Falls, is one of four pathologists at St. Luke's Magic Valley.
"I was a med tech before I went to medical school so it just seemed natural," Dr. Bennett Munro said. "I felt like someday I wanted to have my own lab, and the only way I could do that was to become a pathologist so that's what I did."
A pathologist identifies diseases and conditions by studying abnormal cells and tissues.
"We get all of the specimens from surgery, and we make slides of them," she said. "People want to know whether it is cancer or not. If it isn't cancer, they want to know what it is. We do get an awful lot of cancer pathology here, and the pathologists want to know what type of cell type it is, whether the margins are clear, what tumor markers are there that they have drugs for. So, we do all that. Plus, we do bone marrows. And we review all of the abnormal pap smears, and we run the laboratory."
When she's not in the lab, Dr. Bennett Munro finds her refuge in words.
And thanks to a little inspiration from the popular television show "Murder She Wrote," her writing has also given her a second career.
"I thought, if an English teacher from Maine can do it, I can do it. I thought it would be a good thing to do when I retired," she said.
While Dr. Bennett Munro hasn't retired – she still works 26 weeks a year at Magic Valley – a semi-retirement of sorts allows her time to write.
Her first book was published in 2011; the most recent in 2016. All five books are part of the Toni Day mystery series and have catchy titles: "Murder under the Microscope;" "Too Much Blood;" "Grievous Bodily Harm;" "Death by Autopsy;" and "The Body on Lido Deck" (available at your online bookseller).
"The main character is a pathologist named Toni Day, who works in a rural hospital in Twin Falls, Idaho, and she has a husband, next-door neighbors and a mother," she said. "As the books go on, she acquires a stepfather, and her husband acquires a daughter that he didn't know he had."
Dr. Bennett Munro said the books are loosely based on her own life.
"I had a stepfather, but he wasn't retired from Scotland Yard, like the one in the book. And, Toni's mother is British. My mother was British. She emigrated in 1910. She was 3 years old."
Dr. Bennett Munro is in the process of writing the sixth book in the series.
Around the hospital, other doctors will ask her about the books. At the holidays, she gives everyone she is close to a copy of her latest work.
Dr. Bennett Munro's advice to others looking to write a book is to "just start," and she also suggests to some people that they begin by writing a short story.
Despite her success as an author, Dr. Bennett Munro plans to keep working at Magic Valley.
"I don't have any intentions to retire. I like my job," she said. "I think I would be bored out of my mind."