Program Helps Young Patients Stay Connected During Time Away from School
By Chris Langrill, News and Community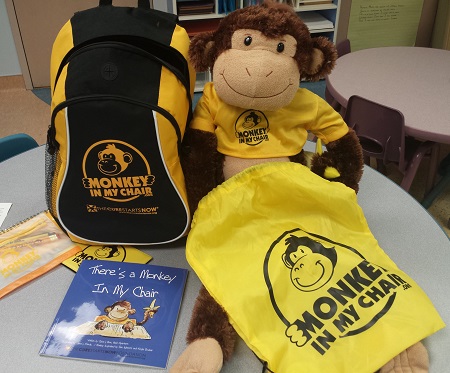 We've all had someone save a seat for us, perhaps at the beginning of a flight or before a movie.
Monkey in My Chair, a program utilized by the St. Luke's Children's Hospital School, serves the same purpose – with a much more impactful objective.
When young patients at the Children's Hospital School are forced to spend time away from their regular classroom because of a cancer diagnosis their seat is saved – by a stuffed monkey.
"(The monkey) is a physical representation of 'This is still my seat. This is still my desk. I'm still part of the class,'" said Colin Carr, a teacher with the Children's Hospital School.
Carr estimates he has used the Monkey in My Chair program about 20 times in the six years he has been with St. Luke's. He has seen the program benefit not only young patients, but their classmates and teachers.
"The kids obviously love the monkey, and they take him to lunch with them," Carr said. "They write notes saying, 'This is what we did with the monkey today. We miss you. We were thinking about you.'"
Monkey in My Chair is a free program originally developed in honor of cancer patient Chloe Watson Feyerherm. The Love, Chloe Foundation has since teamed up with The Cure Starts Now Foundation to provide free kits to hospitals.
Each kit includes a large monkey for the classrooms and a smaller version to stay with the patient. The kit includes a backpack, fun school items and a book to help teachers explain to their students the situation their classmate is facing, along with a teacher guide. In recent years the kit has also included Monkey Message, an online component that allows the sharing of pictures and documents to ensure the line of communication between the patient and the classroom stays open.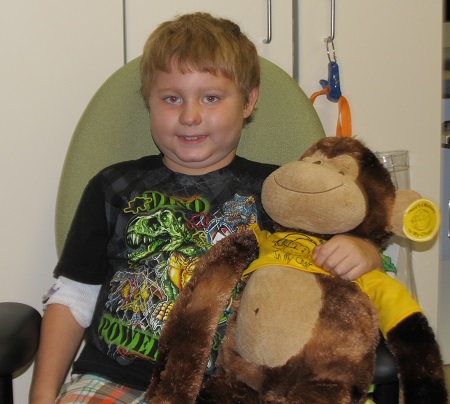 A few years ago, Kuna mother Danielle Vanderwiel witnessed the power of the Monkey in My Chair program after her son, Zack, was diagnosed with acute lymphoblastic leukemia (ALL).
"It was nice because it was a way for him to stay in touch and be a part of the class when he couldn't be," Vanderwiel said. "They would send pictures of when they were taking the monkey to P.E. or the library or when they were on a field trip. … They named the monkey Zack, and it was just cute to see that. He still felt like he was a part of those things, even though he wasn't there."
And she saw the program benefit Zack's classmates, as well.
"Anytime you hear the word 'cancer' it's scary," Vanderwiel said. "For the kids in the classroom … it helped them to realize they didn't need to be as scared of it."
Vanderwield said Zack missed almost all of second grade, but he's now in seventh grade and thriving.
"It took him a few years to catch back up again, but he's now almost exactly back with grade level," she said. "He's out of treatment and he's a normal kid again. So, knock on wood, it's been a fantastic journey."
A journey that included a very important stuffed monkey.
Meanwhile, Carr will have another kit waiting for the next patient who is forced to miss time at school.
"I think it just breaks down a lot of the anxiety," he said. "It's just huge for our kids."