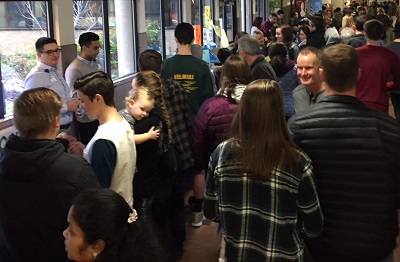 More than 500 high school students interacted with health care professionals on Wednesday night at the Boise School District's first ever Health Professions Expo.
Local medical experts, including nurses, physicians, pharmacists, therapists, and many more, shared their passions for their chosen field—and the paths to get there—with interested students.
Students and an estimated 200 parents and younger siblings crowded into the halls of Borah High School to chat with health care experts and gain insight into a variety of health arenas.
"People learned what it was like to be in a high school during passing period," said Ann Farris, Ph.D., the college and career liaison with the Boise School District, smiling as she looked through the halls packed with eager students and families. "It speaks to the interest and the need that's out there. It's great."
The Idaho Department of Labor and U.S. Bureau of Labor Statistics predict significant growth for health care and social assistance jobs, estimating 19,500 health care jobs will be added in Idaho by 2024.
The goal of the event was to increase awareness of such career opportunities, Farris said.
"We have so many students interested in health professions, but they are not necessarily aware of all the opportunities out there," Farris said.
St. Luke's employees hosted informational booths to showcase athletic training and sports medicine, occupational therapy, physical therapy, respiratory therapy and human resources. There were more than 40 booths, giving students the chance to connect with colleges, health care organizations and the military.
"This was an excellent event," said Lorie Allison, an athletic trainer with St. Luke's Sports Medicine who hosted a booth. "There were tons of students here. They had really good questions. They were interested in how athletic training works. It was fun to interact with the kids."
Panel presentations were also available to students, featuring health care experts leading discussions on topics ranging from pediatric specialties to the role of trauma nurses. St. Luke's Health Partners also participated on the panels.
"It was a lot of fun," said Dr. Noreen Womack, a pediatrician with St. Luke's Children's who served on a panel with Katie Apple, the senior director of operations for St. Luke's Children's. "It actually gives me more energy for what I do because I am remembering when I was this age, thinking, 'I'm going to medical school and it's going to be impossible.' That's where these students are now, and it's fun to be encouraging to them."
St. Luke's helped sponsor the Health Professions Expo, while about a dozen employees attended to represent St. Luke's.
"St. Luke's played a huge role, not only financially, which allowed us to have some incentives for kids and provide some of the opportunities, but by participation on the panels and at the booths, supporting the education of students and showing what possibilities are out there," Farris said.
"Sometimes we focus on the funding of an event, but the gift of time that St. Luke's staff provided is just amazing."