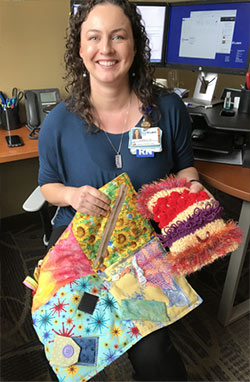 A network of St. Luke's Nampa nurses and local volunteers have found a way to help ease the anxiety of hospital patients with dementia and Alzheimer's.
"Dementia and Alzheimer's patients can be restless or anxious," said Lauren Boyd, a clinical educator in the Nampa hospital. "We give them things to fill their time and soothe them."
Previously, patients were provided with button sorters, puzzles or wash cloths and towels to fold time and again.
But Registered Nurse Carrie Domene had another idea. Domene recently moved to Idaho from California, where she worked with patients who responded well to therapeutic activity blankets that also known as twiddle muffs.
A twiddle muff is a piece of soft material or a knitted, crocheted or fabric tube with accessories such as ribbons and buttons sewn in. The multi-textured design keeps an anxious patient busy twisting and fiddling with buttons and beads.
Jerrie Hammons, a St. Luke's Nampa registered nurse and infection prevention specialist, shared Domene's recommendation with her sister Terry Harper. Harper and her friends have crocheted and knitted dozens of hats and socks for tiny babies in the neonatal intensive care unit.
Together, they got creative and developed patterns for making individualized, multi-colored twiddle muffs and fidget mats to give to patients in the Nampa hospital.
Because of the unique nature of the twiddle muffs, each piece can take six to eight hours to create, Harper said.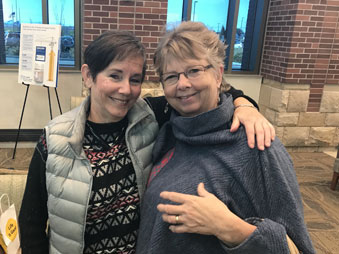 Terry Harper and Izzy Baxter
The project has caught on with volunteers in Idaho and across the country. Locally, Izzy Baxter and her quilting group have made fidget mats. Fran Linn, a longtime Elks Rehabilitation Hospital volunteer, is part of the crochet circle donating its time and materials.
Harper says the volunteers enjoy creating unique pieces and giving back to the community.
"It feels good to help in an area that is new to us," Harper said. "Many of us are the same age as the receivers of our twiddle muffs and fidget mats – so when making these, we can use our imaginations and be creative in a way that we ourselves would like and enjoy, and feel comfortable knowing the recipients will, too.
"I am sure that we as the creators are benefiting just as much – our brains are happy when we are 'thinking outside of the box,' " she said.
At the Nampa hospital, nurses have been gathering feedback to share with volunteers who are making adjustments to the patterns before expanding distribution to the Boise and Meridian hospitals. The results so far are very positive, Boyd said.
To prevent infections, the twiddle muffs are intended for one-time use. "They'll go home with the patients to skilled nursing or rehab," Boyd said.
She is pleased with the multiple benefits of the twiddle muffs. They have been found to not only calm patients and reduce anxiety, but also help engage them. "They are very comforting and provide different tactile experiences," she said.
Boyd is inspired by the employees and volunteers who worked together on this project.
"I think it's awesome that we can provide comfort for these patients and in such a creative way! The knitters and crocheters are amazing," she said.