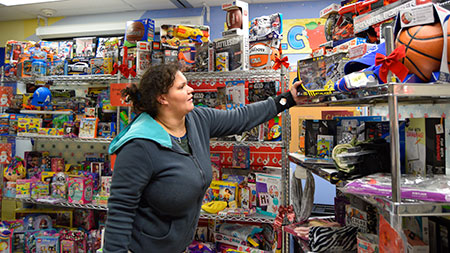 Each year, hundreds of families open their hearts to provide holiday gifts to St. Luke's youngest patients through "Santa's Toy Box" at Children's Hospital. This year, St. Luke's Children's wants to say a special thank you with a holiday donation drop-off party, complete with Santa.
"Any time a child is admitted to the hospital, stress and strain follow for parents and family members," said Amy Rohyans, St. Luke's Children's Hospital Child Life supervisor. "When admissions happen during the holiday season, that stress mounts under a multitude of additional pressures."
Rohyans says St. Luke's Children's Hospital created the "Santa's Toy Box" program to partner with families in an effort to reduce that holiday strain and create a wonderful Christmas experience for the whole family, no matter why their child is in the hospital, or how long they have to stay. Community members donated new, unwrapped toys, games, books, art supplies and stuffed animals for kids of all ages. The toys are set up in a special room, and parents are invited to secretly "shop" for their children for free, even for the ones not in the hospital. Those toys are then wrapped by a team of volunteers and delivered to the kids in time for them to still experience the joy of Christmas.
This year, St. Luke's is especially grateful for donations of toys and gifts for infants, school-aged girls, teenagers and gift cards. See the list.
This year, the Child Life Department of St. Luke's Children's Hospital is saying a big thank you to all its supporters and gift donors by hosting a "Stock the Box" drop-off party from 6 to 8 p.m. Monday, Dec. 17, in the Anderson Center Lobby at St. Luke's Boise. The community is invited to bring their donations, enjoy music and treats, say hello to Santa and help fill stockings for babies. Those who are interested, should RSVP to Kate at 208-381-1163, or [email protected]. Find more information on our event page.