As longtime Brigham Young University fans, Aaron Seable and his brother-in-law, Mike Karpowitz, were excited to hear that the BYU Cougars would be playing in this year's Famous Idaho Potato Bowl at Bronco Stadium Dec. 21.
"I was with Mark when they made the announcement, and it took us about five minutes to get tickets," said Seable, from Nampa.
Thanks to St. Luke's FitOne Family Field Day, they were able to make it an all-day event while also getting in a little exercise before the game.
"This is the third time we've been to a BYU bowl game, and this is one of the better pregame events," Karpowitz said while standing on the turf of the Caven-Williams Sports Complex, an indoor practice facility next to Bronco Stadium. Karpowitz, also from Nampa, is an engineer at Hewlett-Packard in Boise.
Karpowitz's sons, Jordan and McKay, had a friendly competition going as they competed in some of the football drills offered at the event.
Jordan, 17, claimed bragging rights after the two had completed five of the events. McKay, 15, took it all in stride.
"He runs cross country," McKay said. "I watch him run cross country."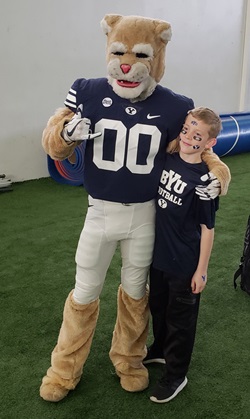 Still, McKay said he bested Jordan on the vertical jump – not that the FitOne activities were really about competition.
"It's an awesome event," McKay said. "This entire week has been great. My dad and I were invited here to watch BYU practice on Wednesday, so this is our second time being on this field.
"We met the head coach … and we got to see all these cool players," he said. "And now I get the opportunity to run around on this field, and it's pretty cool."
Another cool moment happened for fellow BYU fans T.J. Bliss and his son, Henry. Cosmo the Cougar was roaming the field and stopped for a photo with Henry.
"He's one of the best mascots in college sports," T.J. said.
In addition to the fun and games, St. Luke's used the opportunity to educate.
Corey Bell, community outreach coordinator for the St. Luke's Concussion Clinic, was on hand at a booth stocked with informational materials.
"We're trying to stress the importance of education about concussions," Bell said. "And especially at a football game, that topic is relevant."