Eat Play Grow program helps Nampa families learn about healthy lifestyle choices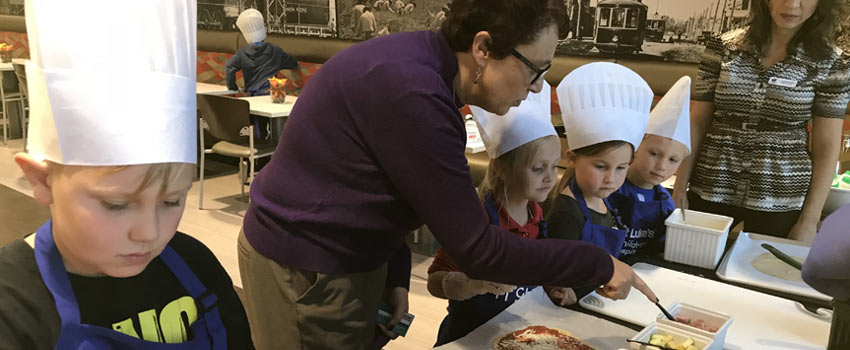 By Amy Stahl, News and Community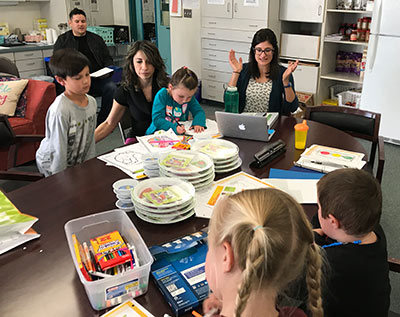 Dr. Sarah Porter frequently counsels her patients about eating better and exercising more, but she knows that her message may resonate better outside the walls of her Nampa family practice clinic.
So Porter welcomed the opportunity to volunteer as a teacher in a new healthy lifestyles class at Nampa's Snake River Elementary School. The free five-class program, called Eat Play Grow, was offered by the Nampa Public Library in partnership with the Nampa School District and St. Luke's.
The program is supported by the Idaho Commission for Libraries and the Blue Cross of Idaho Foundation. A grant covered the cost of curriculum and supplies.
Eat Play Grow incorporates hands-on educational lessons with storytelling, music, art-making and movement to teach young children and their families the importance of living a healthy lifestyle, said Joyce Gergen, a Nampa librarian.
"The programs focus on nutrition, physical activity, and the importance of sleep to healthy development."
About 10 kids and their parents participated in the pilot program this fall. Mari Ramos, a Nampa School District family resource center coordinator, facilitated in English and Spanish. The age-appropriate curriculum covered healthy beverages, portions, the benefits of fruits and vegetables, smart sleep and screen time. Parents also received follow-up tools to help them adapt the information into their home settings.
Instructors included Mariah Southworth, a St. Luke's Children's Brigham Young University-Idaho intern, and Dr. Danielle Davies, a faculty member at the Family Medicine Residency of Idaho's new Nampa program. Jean Mutchie, a St. Luke's Children's program manager, and MSTI Educator Dawn Callaham helped with logistics.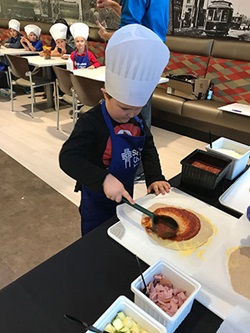 For the Eat Play Grow session about family meals, kids and parents met at the St. Luke's Nampa cafeteria. The students dressed in child-sized aprons and miniature chef hats to make pizzas with mandarin oranges, broccoli and other healthy ingredients. While Food & Nutrition director Rick Holland cooked the hand-made pizzas, St. Luke's Registered Dietitian Tony Teich taught the group how to read nutrition labels.
Dr. Porter focused on bone health, energy and exercise for her one-hour session at Snake River Elementary. After the kids drew a skeleton, Porter talked about the 206 bones in the human body, the importance of calcium and vitamin D for healthy bone development and the benefits of eating a calcium-rich diet of foods, including dairy, soybeans, broccoli, kale and almonds.
Then the class went outside for a high-energy, laughter-filled animal freeze game.
Porter also taught about the importance of exercise to maintain weight, improve lung capacity, bone density and heart strength, lower stress, improve learning and prevent diabetes.
"I had a ton of fun with my group," she said. "I spent the last few minutes talking with the parents, just reiterating the themes of the night and explaining why I care about them so much. The parents really seemed to connect with and appreciate that."
Porter enjoyed the opportunity to talk with families in a comfortable environment at their neighborhood school.
"Diet and exercise are key contributors to a person's overall health and well-being, and I believe all children should have access to education promoting a healthy lifestyle early on in order to help develop good lifelong habits," she said. "I think this message is sometimes better received when I can get out of the exam room and do more hands-on learning with groups of kids and their parents, together."
To learn more about Eat Play Grow, see https://libraries.idaho.gov/rtm/eatplaygrow/.