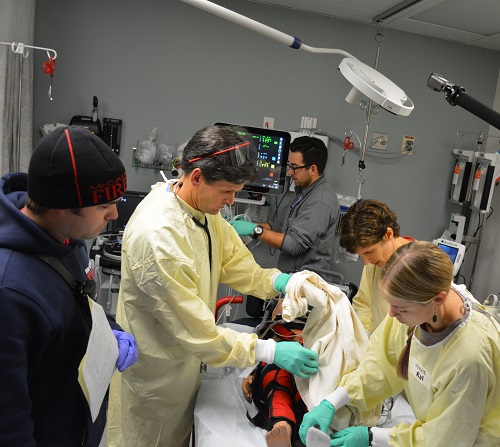 In a mountain town where the locals and visitors like to play hard, serious accidents and injuries are common occurrences. And McCall, known for outdoor sports and activities, is no different.
What is different, however, is the level of care available.
One third of patients treated in the St. Luke's McCall emergency department are there because of a trauma related event.
St. Luke's McCall's Level IV trauma center designation with the Idaho Time Sensitive Emergency (TSE) Center, approved earlier this month, demonstrates the hospital's ability to provide advanced trauma life support (ATLS) and seamless transfer of patients to a higher-level trauma center, when specialized care is needed.
Idaho recognizes five trauma level designations. The higher level facilities, I and II, treat more complex patients.
Idaho does not have any level I trauma centers, which are characterized by teaching programs for medical residents and ongoing research, but there are three Level II trauma centers. Saint Alphonsus serves all of southwestern Idaho; the other two centers are Kootenai Health in Coeur d'Alene and Eastern Idaho Regional Medical Center in Idaho Falls.
"St. Luke's McCall has shown its commitment to the community," said Christian Surjan, manager for Idaho Department of Health and Welfare's TSE program. "This is a tremendous accomplishment and will benefit all of the trauma patients in the region for a long time to come."
The TSE system was approved and funded by the Idaho Legislature in 2014 to address three of the top five causes of death in Idaho – trauma, stroke and heart attack – with criteria and standards of care in each category and to organize a region and statewide trauma system. Studies show that organized systems of care in such cases improve patient outcomes, reduce the frequency of preventable death and improve patients' quality of life.
"I'm extremely proud of the St. Luke's McCall team and our community partners for working together to achieve this important designation," St. Luke's McCall Administrator Sean McCallister said. "Meeting trauma center standards enhances the stellar care already provided to patients at our hospital."
While the hospital has been serving trauma patients for decades, this new designation ensures consistent evidence-based care that coordinates pre-hospital response, transport and hospital emergency/acute care. Additional components of the program are injury prevention and community education on trauma.
McCall's journey to seek trauma designation began nearly a year ago and culminated with an onsite survey earlier this month by the TSE evaluators, followed by final approval at the TSE council's meeting Aug. 14.
Critical Care Paramedic Jill Morris-Chapman was hired as the trauma program coordinator, and General Surgeon Dr. Amy Ocmand signed on as the trauma medical director. Emergency Room Nursing Director Jackie Hurzeler and Registrar Jami Kimball round out the trauma coordination team at St. Luke's McCall.
Funding to support the initial year of the trauma initiative was provided by the McCall Memorial Hospital District.
The team hit the ground running, collecting and evaluating data and reviewing cases. They followed up by formally implementing trauma team activation and streamlining processes throughout the hospital.
Continued collaboration with local EMS teams to improve pre-hospital care and response is a critical component.
Initial improvements include quicker transfer times and a standard order set for lab and imaging tests. These tests are now aligned with those of Saint Alphonsus. This one process change gets the tests done faster and the results to doctors quicker so treatment can begin. It also reduces the need to duplicate tests at the higher-level trauma center, which reduces costs for patients.
"Over the past year, I have seen significant strides in improving the quality and expedience of care provided in trauma situations," Ocmand said. "We have also seen the changes impact the quality of care in other critical situations, such as stroke and myocardial infarctions."
McCall is the first hospital in St. Luke's Health System to receive trauma designation, and the designation is considered the first step in creating a trauma network within St. Luke's that will include St. Luke's Children's, Magic Valley, Meridian and Wood River.
"Receiving this designation is only possible because of the collaborative input of every department in the hospital and all of the regional EMS teams," Morris-Chapman said. "This has allowed us to come together as an effective trauma team."