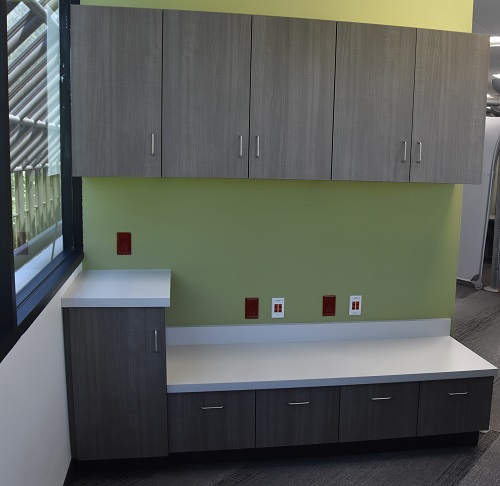 As a St. Luke's construction project manager, Mike Dahlberg is constantly trying to complete jobs in a timely manner while also being cost effective and creating a quality product.
So, when Dahlberg was tasked with installing cabinetry and other millwork in St. Luke's office buildings in Boise and Meridian he sought out contractors who could help him reach those goals.
Ultimately, he ended up developing a relationship with a rather unique partner: Idaho Correctional Industries (ICI). ICI provides daily training for inmates at Idaho State Prisons with the goal of providing inmates with on-the-job training while producing a number of different products, including office furniture.
"(ICI) had to bid against two other millwork contractors," Dahlberg said. "They didn't get all the work, but working with them made economic sense. On top of that, we just saw it as a good community outreach program. We are a community-based hospital, and we saw it as a good community outreach program to support."
David Day is a cabinet maker who used to own his own business. He was working long hours and considering his options when he heard about an opening at ICI.
"This opportunity came up, and I got really excited about what the program does and what it can do, and what I can offer to it," said Day, who is a senior trainer and project coordinator with ICI.
Day said he is a stickler for producing a quality product, and the program ensures that ICI is producing just that. Meanwhile, inmates are preparing themselves for a life after prison.
"They might not all go out and work in a cabinet shop or a metal shop, but they're going to learn how to work, how to be trained, how to deal with some high-pressure situations," Day said.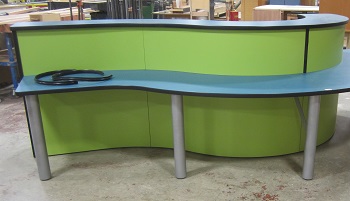 Millwork like the desk shown here is created by inmates at Idaho Correctional Industries.
Day lit up when sharing one of his recent success stories.
"I got an email from an employer just outside of Salt Lake City, and he hired an offender who had entered the system when he was 17 years old," Day said. "He worked in ICI for almost 12 years, going through the process and learning every stage — the woodshed, the metal shop, the drafting — and he's making a great living now. The employer had nothing but praise after praise for the guy. That's what we're about."
They're also about creating a quality product. Day and Dahlberg agree that it's one thing to help out Idaho's prison population, but it's another to ensure that St. Luke's is satisfied with the finished product. That hasn't been an issue for Dahlberg.
"The quality is there," he said. "Our design documents are very clear on what we expect, and the laminate, the workmanship, it's all there."
By law, ICI can only sell to government agencies, schools, universities and non-profit organizations.
Since St. Luke's in a non-profit, it can utilize ICI's work, but Dahlberg is cognizant of the relationship St. Luke's has with other private contractors.
"We'll still keep it competitive and we'll make sure we reach out to our subcontractor base that we've worked with in the past," he said. "But I think the relationship (with ICI) will be there for a while. It just makes sense on a lot of levels. … I think we can see a long-term future with them."
Day would love nothing more than to see that come to fruition.
"It means a great deal to us to have St. Luke's as a partner," Day said. "Everybody see St. Luke's in the community, and they're a part of the same process that we are: Let's make the community better. It's a little different angle, obviously, but that's what we're about. So, for St. Luke's to recognize the benefit of Correctional Industries and what we're doing for the community — and want to invest in that — is huge for us."