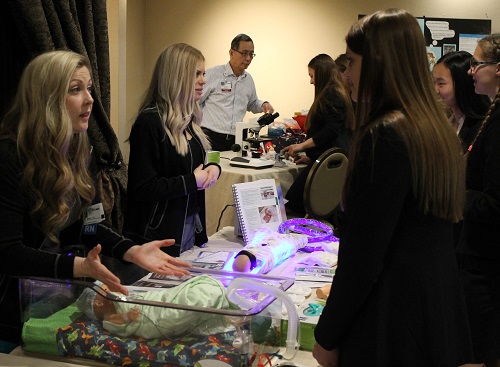 St. Luke's staff from nearly 20 departments and service lines shared their passion for health care with interested high school students at the recent HOSA: Future Health Professions State Leadership Conference.
About 900 students from across Idaho attended the annual conference, held April 11-13, at the Riverside Hotel in Boise. St. Luke's employees from a variety of specialty areas hosted booths that included interactive displays, information and simulated, hands-on trainings where students practiced drawing blood on a training manikin.
"I like seeing the students so excited and passionate, asking great questions," said Brenda Krueger, who is part of St. Luke's Clinical Learning and Student Services, and served as the lead coordinator for St. Luke's at the event. "My favorite part is when the exhibitors bring the simulators, so the students get to participate in hands-on training. The hands-on component really makes it a win-win."
In addition to the St. Luke's exhibits, the conference included tests and competitions related to medical terminology, first aid training and current issues in health care. Tours of the health science facilities at College of Western Idaho and Idaho State University-Meridian also highlighted the conference's jam-packed agenda.
About 35 St. Luke's employees represented diverse health care fields at the conference.