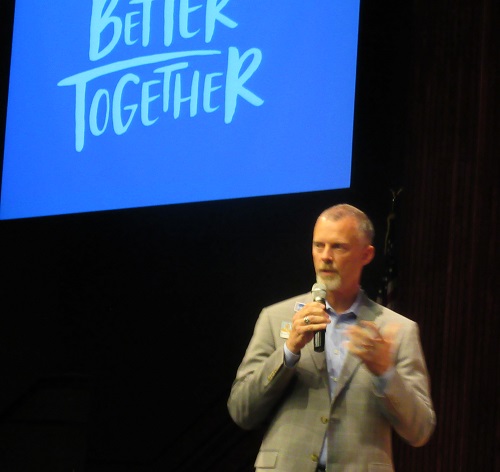 At their first large group meeting on Sept. 19, about 400 employees from St. Luke's Nampa learned about the importance of providing excellent clinical care while engaging with non-profit partners to help improve the health of the community in Canyon County.
The $98 million, 87-bed hospital will include family suites for new mothers and their newborns, a newborn intensive care unit (NICU), children's services with outpatient subspecialists, additional heart services, an intensive care unit, imaging services, obstetrics and women's services. The hospital is expected to open in the fall.
The recent all-staff meeting started with some fun, interactive team-building exercises followed by an introduction of the members of the new Western Treasure Valley Community Board. Nampa CEO Ed Castledine gave a presentation about St. Luke's history of clinical excellence and the skills the new employees bring to the community. Castledine commended the Nampa emergency department, lab and imaging employees for their outstanding work on behalf of St. Luke's in the past five years and presented a special award to Teresa Hall for her leadership of the Nampa and Fruitland emergency departments.
Castledine also shared data about obesity, the Hispanic infant mortality rate and the 10 percent of homeless students in the Nampa School District. The employees viewed a special video and heard from a domestic abuse victim who is rebuilding her life with help from the Nampa Family Justice Center and the child of a drug-addicted mother who found her "true" family at the Boys & Girls Club of Nampa. At the conclusion of the meeting, employees were invited to learn more about the work of 10 non-profit partners who are making a significant impact in the community.