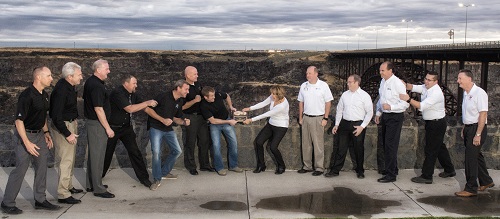 Twin Falls and Jerome each are sending out the challenge: Get out your walking shoes and be prepared to bring it. The Magic Valley community is getting ready for a fun, competitive walking challenge happening in October.
St. Luke's team members in Twin Falls and Jerome, along with community leaders, teachers and neighbors, will be participating in a friendly competition to see which team can log the most miles during the month.
This competition is an off-shoot of the month-long Mayor's School Walking Challenge, which encourages students and city mayors to lace up their sneakers and get moving. Sponsors are St. Luke's, the High Five Children's Health Collaborative and the Idaho Dairy Council.
Elementary schools throughout most of the state of Idaho are participating. A cash prize will be awarded to the school in each competition area that has the highest average miles walked by each student. Winning funds will be spent on food service equipment and physical activity equipment for the winning schools.
The mayor who logs the most steps also will receive funds to donate for physical activity equipment for a local elementary school or city park.
Walking will be logged from Oct. 2 through Oct. 31 for schools and Oct. 1 through Oct. 31 for other participating teams.
Mayor Shawn Barigar of Twin Falls participated last year and donated his winnings to the Magic Valley Trail Enhancement Committee toward trail improvements.
"I'm looking forward to a motivation boost from this challenge," he said. "I hope our community will join me in October by walking as well, to improve our collective community health and support our schools and parks."
For Jerome School Superintendent Dale Layne, the challenge encourages community collaboration.
"It has been exciting to see this partnership evolve and to reach the goal of increasing opportunities for children, their families and their neighbors to engage in healthy physical activity," he said. "When we work together, we can make a difference in our community."
For the St. Luke's spin-off walking challenge, the individual with the most mileage logged between the Magic Valley and Jerome teams will receive $1,000 to be donated to the organization of the winner's choice.
The Jerome team members are:
Curtis Maier, St. Luke's Jerome Administrator
Jill Howell, St. Luke's Jerome Chief Nursing Officer
Dr. Josh Kern, St. Luke's Jerome Family Medicine
Dr. James Irwin, St. Luke's Jerome Family Medicine
Mayor Dave Davis
Dale Layne, Jerome School District Superintendent
Interim Fire Chief Jeremy Presnell
The Magic Valley team members are:
Mike Fenello, St. Luke's Magic Valley Administrator
Arlen Blaylock, St. Luke's Magic Valley Chief Nursing Officer
Dr. Steven Kohtz, St. Luke's Magic Valley Family Medicine
Dr. Ryan Melvin, St. Luke's Magic Valley Family Medicine
Mayor Shawn Barigar
Dr. Brady Dickinson, Twin Falls School District Superintendent
Police Capt. Anthony Barnhart
For additional information, visit High Five or email Courtney Frost.