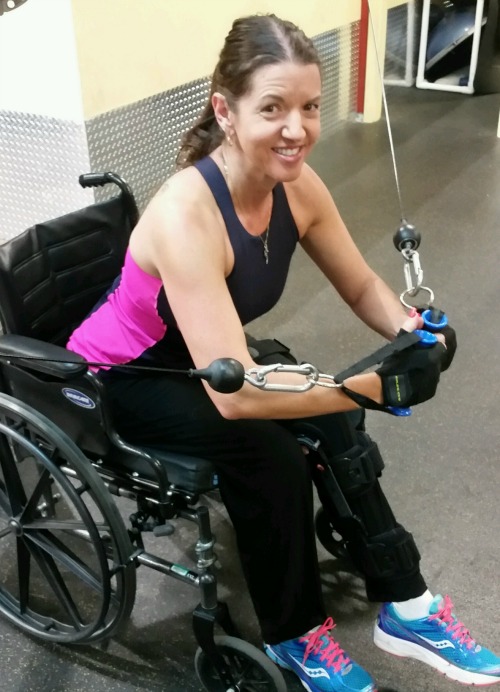 A self-proclaimed "gym rat," Geri Helm enjoys competing in bodybuilding events and pushing herself to achieve more.
It wasn't until a life-altering event last year that Helm realized just how much she took for granted when it came to her fitness.
On her way back to Twin Falls from Ketchum, Helm was involved in a head-on collision. She incurred 14 breaks and fractures, including fracturing her pelvic in three places, breaking her right tibia and fibula and on her lower left leg.
She was transported to Boise where she stayed in the hospital for 12 days before being admitted to St. Luke's Magic Valley Inpatient Rehabilitation Unit (IRU). She spent a week in the IRU before returning home.
"When I first woke up and realized that I had an accident, I had a positive attitude," Helm said. "I was determined to get back to where I was. I thought when I woke up that 'I am still here and my job isn't done yet."
She couldn't walk for three and a half months.
"I had never broken a bone in my body in my whole life," she said. "Now, I have a rod in my left femur and a plate below that. Three screws in my hip and a rod in my tibia on my right leg.
"I was in pretty good condition when I had my accident," Helm said. "According to medical experts, if I hadn't been in the condition that I was in when I had the accident, I would not be here."
Her drive to physical fitness continued right after the accident.
"Thirty days after my accident was my first day back in the gym," she said. "My husband went to the gym with me at 5 a.m. twice a week. I weight-lift and when I could use my lower body, I was extremely weak compared to what I was. I was lucky if I had 10 percent of my strength from before the accident."
Helm followed her rehabilitation team's instructions, doing everything they asked her to do and more.
"I did some rehab on my own because I am an impatient person," she said. "I wanted to get back to myself as quickly as I could.
"It's amazing what you take for granted when you don't have it."
Each time she went to the gym, she could feel herself getting stronger. After much rehabilitation, along with the support of the rehab team and her family, Helm is now back to the upper body strength she had prior to the accident; her lower body strength is about 70 percent of where it was.
While she has learned not to take her fitness for granted, she doesn't plan to stop pushing herself. Helm wants to compete in a bodybuilding contest this coming spring.
About Rehabilitation
Rehabilitation is a medical specialty that helps people affected by potentially disabling disease or traumatic injury. The goals of rehab are to help restore patients to good health and functional, productive lives and to minimize physical or cognitive disabilities.
Rehabilitation is an integral part of health care and a tremendous component in providing patients with positive outcomes. Independence gained or retained through rehabilitation is priceless.
St. Luke's Magic Valley's Inpatient Rehabilitation Unit (IRU) is celebrating its 10-year anniversary and will be hosting an open house on Thursday, Sept. 21 from 4:45 to 6 p.m.