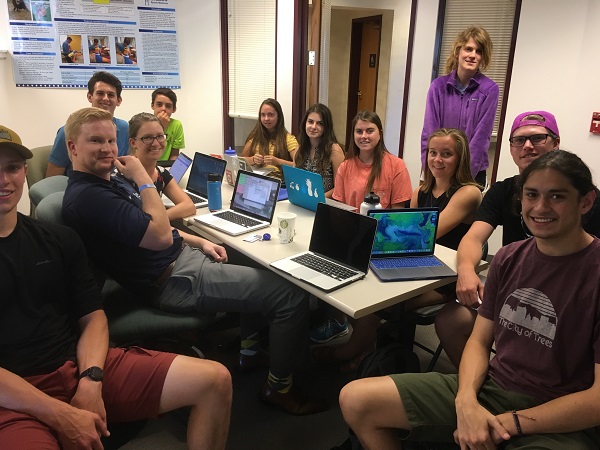 A biomedical research class led by a St. Luke's orthopedic surgeon is helping area students prepare for future careers in medicine.
Dr. Kevin Shea was inspired to begin the class in Boise after a trip to Boston, where he noticed the public school system was producing outstanding students.
"I was trying to understand why those kids were doing so well," Dr. Shea said. "I learned that lots of college professors were involved in those high school programs."
Dr. Shea began offering a biomedical research class in Boise in 2007. The class size is small – no more than a dozen students – and it is offered for free. Students don't earn credit or a grade in the class. What they do earn is valuable experience in the field of medical research, and it gives them a head start in an area of study that most students don't receive until much later in their undergraduate education.
Students who take the class are typically juniors or seniors in high school or freshmen or sophomores in college.
Each student selects an area of focus. They research surgical techniques, approaches to recovery and complications. While each student's topic is unique, the group works together following a similar process. The class helps them learn what to look for in research journals, the best publications to use and the most credible sources.
Aleksei Dingel studied her own bone fracture when she took the class this year.
As a high school gymnast, Dingel had several sports injuries that were treated by Dr. Shea. During one of those visits he asked her what she planned to study when she went to college. When she told him she planned to study medicine, he told her about his biomedical research class.
Dingel researched surgical and non-surgical routes to healing. Through her research, she was able to understand why Dr. Shea chose to treat her bone fracture without surgery.
"It was cool to see the evidence behind it," Dingel said.
Dingel is now Dr. Shea's lead research coordinator. She graduated from the University of Washington in spring 2017 and will apply to medical school in 2018. She feels she is already well-prepared for that next step in her education, thanks to what she learned in Dr. Shea's research class.
"You don't get to see this side as a student at a university," she said.
Jessica Burlile, who is in her second year at Georgetown University's School of Medicine, spent the summer working with Dr. Shea as a member of his research team and as an assistant in his class.
Burlile agreed that the class gives students an advantage others don't typically have at that grade level.
"Having a mentor like Dr. Shea is huge in medicine," Burlile said. "The opportunities he offers students are so invaluable."