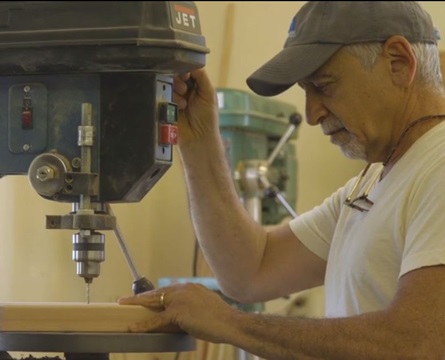 If George Hage sees a problem, he's going to do his best to solve it.
That constant drive to help others has made Hage a beloved occupational therapist at St. Luke's Rehabilitation, and it will be part of his legacy when he retires in October after 41 years of helping patients in Boise.
Hage has worked with countless patients since he came to what was then known as Elk's Rehabilitation Hospital in the 1970s. His interest in wood working helped him tap into a new way of helping patients soon after he joined the hospital staff. During conversations with patients, Hage learned about activities they once did that they wanted to do again. In some cases, patients told Hage about activities they feared they wouldn't be able to do. Hage began making adaptive equipment to enable patients to do those activities.
"Occupational therapy is about helping people learn how to continue the activities of daily living," Hage said. "When someone is able to do something it brings hope to that person."
In 1988 Hage began using the wood shop at his home to make equipment for his patients. One year he had a quadriplegic patient who was paralyzed from the chest down and was adopting a baby in six weeks. She told Hage she was concerned she would be unable to lift her baby in and out of a crib. George built a crib that opened like cabinet doors that she could open and easily reach in for her baby. More cribs followed, along with other items, such as customized makeup trays.
Hage, who is a modest, soft-spoken man, said he got his best ideas from his patients.
He created makeup trays to give women easier access to the cosmetics they used as part of their daily beauty routines. Hage customized the trays based on the types of containers, applicators and products used by each patient.
"Occupational therapy is about helping people learn how to continue the activities of daily living," Hage said. "When someone is able to do something it brings hope to that person."


In 2004 Hage discovered a new way to channel his energy and continue to help people. That was the year he became involved with Free Wheelchair Mission, a non-profit organization that gives wheelchairs to people with disabilities who are living in developing nations. During a trip to Uganda in 2006, Hage saw firsthand how people without wheelchairs could only be mobile by crawling. Some people had been crawling for 50 years. Others were pregnant or had newborn babies.
The World Health Organization estimates that 80 percent of people with disabilities live in third-world countries. Free Wheelchair mission has given out one million wheelchairs since 2001 and hopes to double that number by 2025. Hage is supporting that goal with one of his own: To collect enough wheelchairs to fill Albertsons Stadium (36,000 chairs). They hit the halfway point in July.
His work in Idaho is a sharp contrast to what he has seen in other countries, where people have little support.
"Many of the injuries we see here, those patients wouldn't survive in those countries," he said.
Hage plans to deepen his commitment to Free Wheelchair Mission when he retires. He will also continue to make adaptive equipment from his shop at home.
Throughout his career and his work as a volunteer, Hage has been inspired by the people he has met along the way. One man in particular made a lasting impact, and Hage describes him as "the most inspiring person I've ever known."
Hage formed a deep, lasting bond with Hernan "Non" Reyes, a man who began his journey with Hage as a patient and is now a close friend. Reyes was paralyzed from the shoulders down following a car accident in 1992. Hage urged him to find a new way to channel his energy and built an easel Reyes could use for painting.
Reyes discovered he had a talent for art. Using his mouth to hold a paint brush or pencil, Reyes creates beautiful paintings and drawings. Reyes also joins Hage in supporting Free Wheelchair Mission.
A video tells the story of their strong relationship.
"One of the things I've liked best about my job is the relationships," Hage said. "It's a real relationship job."
Retirement Celebration for George Hage
Congratulate George Hage on his upcoming retirement and help him celebrate 41 years of compassionate care on Saturday, Oct. 14 from 4 to 6 p.m. at St. Luke's Rehabilitation, 4
th
Floor, 600 N. Robbins Road in Boise.