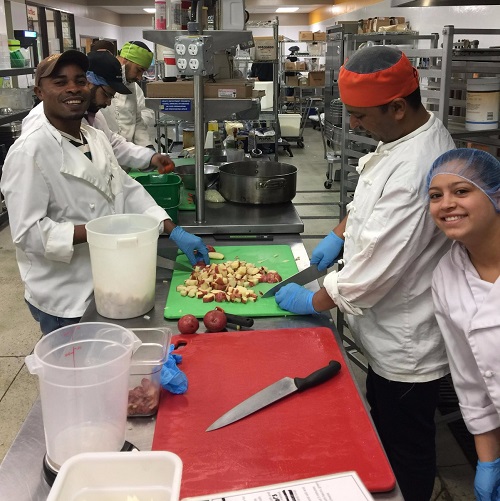 It's possible for people to overcome domestic violence on their own – but Bea Black and Tracy Hitchcock will tell you it's a whole lot easier with some outside assistance.
Black is the executive director of Boise's Women's and Children's Alliance (WCA), and Hitchcock is chief executive officer of Create Common Good (CCG). The two organizations have been teaming up along with St. Luke's to help women overcome domestic violence and abuse.
"Together, we're providing a space of empowerment for people who are making a fresh start," Hitchcock said.
This October marks the 30th anniversary of Domestic Violence Awareness Month, established to recognize those who have died because of domestic violence, celebrate survivors and connect those working to end violence.
One local survivor has plenty to celebrate now, but it was a long journey to this point.
The mother of three said she was trapped in a situation of domestic abuse for some time.
"A bomb hit my life," Ruby said. "There were small bombs and then they kept getting bigger and bigger. There came a time when I had to choose something bigger than a man … for my kids."
After leaving her former husband, she turned to the Women's and Children's Alliance. The help she received was the first step in beginning a new life.
"I didn't have to explain my story again and again and again," Ruby said. "I felt so safe there, and they just got it."
Ruby had decided she wanted to work around food, because it provided her with a feeling of comfort, and she was a perfect candidate for Create Common Good's job-training program, which teaches skills necessary in the food-service industry.
"About 80 percent of our clients come through partner agencies," Hitchcock said. "The WCA is one of those partners."
Ruby was thrilled about the idea of going through the program.
"I was like, 'What? Did I just win the lottery?' I can't describe how amazing it was," she said. "After stepping out of the isolation bubble that I was in and then going to Create Common Good, I just learned so much. … There were two other girls from the WCA, and we just bonded.
"And there was laughter."
The laughter was invaluable, as was the experience.
"I learned a ton, but what I learned about myself was amazing," Ruby said. "Graduating from Create Common Good was more exciting than graduating with my master's degree. … I just felt like, 'I did it!' And people that I didn't know before believed in me and said, 'You're worthy of living a peaceful life.'"
Experiences like Ruby's underscore the important partnership between the WCA and CCG, a partnership supported by St. Luke's through the Community Health Improvement Fund.
"To have the support of an organization like St. Luke's, and they get it, in terms of the importance of collaboration and supporting and encouraging it, that's huge," Black said.
In the end, collaboration and support are what allowed Ruby to change her life for the better.
"I finally had a tribe of people around me who understood," she said. "There is no way I could have gotten to where I am now without those guys.
"They helped me know I could do it, and they believed in me."