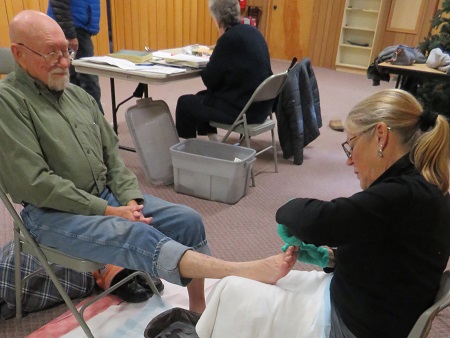 St. Luke's McCall's foot clinics have become a popular social and physical well-being checkup for 120 seniors every month.
The foot clinics are much more than just a pedicure. During the clinics, providers check blood pressure, look for sores below the knees and talk with patients about the status of their health. Care providers learn how patients feel about their overall health and whether they are how taking their medications as prescribed.
The clinics are open to anyone who has foot problems, but many patients who visit the clinics have diabetes. Foot care is especially important for people who have diabetes, because it can lead to complications such as foot ulcers or neuropathy (numbness in the foot).
"If a senior's feet are painful or diseased, they move less which leads to quality of life issues and other chronic conditions," said Janet Jeffery, a nurse at St. Luke's McCall who coordinates and provides services offered at the clinics.
Just two years ago, about 60 seniors regularly attended foot clinics in Council, New Meadows, Riggins and McCall. The clinics have grown steadily each year.
"I love seeing this people and hearing their daily and lifetime thoughts," Jeffery said.
One patient is 102 and drives himself to the clinic.
Nearly every clinic day, Jeffery observes a condition that needs immediate medical attention and ensures the patient schedules a clinic visit.
The $15 patient fee is subsidized, but St. Luke's McCall considers foot clinics to be a highly effective community health benefit service.
"Every month we pick up another person or two in every community. I'm not sure at what number our foot clinics will top out, but I am sure we are keeping people healthier," Jeffery said.
For more information, call St. Luke's McCall Center for Health Promotion at 208-630-2420.