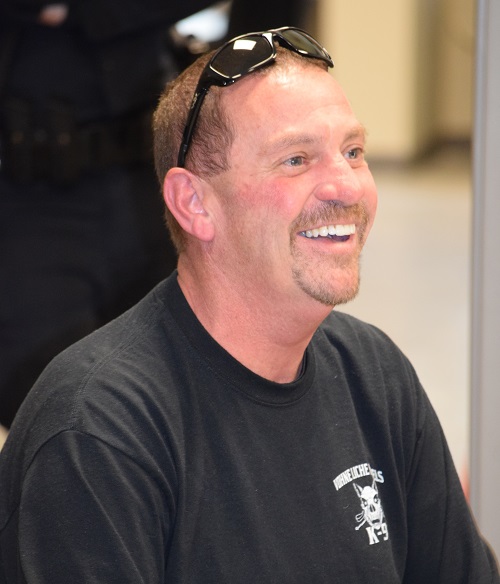 As a canine handler for the Twin Falls County Sheriff's Office, Jody Jeske worked long hours in sometimes stressful situations.
"You have to trust your dog, and the dog has to trust you," Jeske said.
It's the same mentality he needed when he was diagnosed with stage 4 throat cancer, and it was essential that he trust the treatment plan outlined by his doctors.
"I had been experiencing painful earaches for approximately a year," he said. "Doctors thought it had to do with my jaw. Then, it moved into both ears."
At a dentist appointment in August 2016, the dentist felt a lump under Jeske's tongue. Jeske went to St. Luke's for a biopsy and PET scan, leading to the cancer discovery.
"It was in my tongue, my throat and my lymph nodes," he said. "It floored me. I couldn't believe why or how.
"It is what it is. That's the hand that I got dealt."
Jeske did not have surgery to remove the cancerous lump as it would have meant losing his tongue. Instead, he received three rounds of chemotherapy and more than 30 rounds of radiation therapy.
As a patient, Jeske wasn't only worried about his diagnosis and treatments, he was also concerned about the financial costs associated with cancer, such as paying for his special nutritional needs that added up to about $400 per month.
Jeske was able to receive financial help through St. Luke's Magic Valley Health Foundation's cancer patient emergency fund. Some of this funding was raised through a program called No-Shave November.
No-Shave November's main goal is to increase awareness of the needs of cancer patients and redirect the money typically spent on hair care and grooming over the course of a month to help those who are battling cancer. Men often participate by growing a beard or mustache, for instance.
This year, the Jerome Police Department and Twin Falls Police Department are competing to see who can raise the most money during November.
"The fundraiser through No-Shave November is a huge help. It was a huge help just for me. I can only imagine how many people it does touch," Jeske said.
Jeske's recent scans show no evidence of cancer, and. while that news is celebratory, he is still left with some side effects that prevent him from working.
"I have horrible dry mouth so it's hard to talk. I had to have a few teeth extracted before radiation treatment so eating is difficult. I stopped using my food tube on September 1. I just told myself it's either stop or continue so I stopped and forced myself to eat.
"At this point, I am nowhere near the strength I would need to work in law enforcement. My speaking, in my opinion, is not there. My need for hydration would be hard to do in the field, especially if I was handling a dog, and we had to go on a track. There is no way that I can do any of that right now. And, getting the amount of nutrition on a 12-hour shift would be hard to do."
How you can help cancer patients like Jody Jeske:
Get involved with "No-Shave November," the national month-long event campaign where participants forgo shaving throughout November to raise awareness for those fighting the battle against cancer. Funds raised can be donated to St. Luke's Mountain States Tumor Institute (MSTI)'s Cancer Patient Emergency Fund. You can participate individually or with a company or organization.
Last year, $14,000 was raised through the campaign in the Magic Valley.
From October 2016 to October 2017, the Cancer Patient Emergency Fund served 180 patients at St. Luke's MSTI in Twin Falls with medications, hotel lodging, housing costs, utilities, medical devices, transportation costs, groceries and gas cards.
If you would like more information or to donate, contact the Foundation at (208) 814-0070 or by email. Learn more about No-Shave November online.
Hear more about Jeske's story by watching
this video
.