Dr. Pate Spends Time with Students at Boise's Taft Elementary School
By Roya Camp, News and Community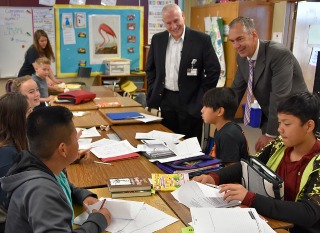 Taft Principal Tim Lowe recently invited St. Luke's President and Chief Executive Officer Dr. David Pate to visit the elementary school to talk about commonalities between health care and education and challenges faced by those in both settings.
Dr. Pate took up the invitation May 4, and what ensued was a visit full of reading, learning and discussions about – Weedwackers?
Yes. Among other things.
The meeting was set up in response to interviews and writing Dr. Pate has been involved in that look at what health care and education leaders can learn from each other and what patients and students can bring to the discussions.
"I was intrigued by the examples he gave of thinking outside the box to determine the root of problems he and others have faced in the health care system," Lowe said.
"He and I appear to share some of the same concerns for education on the state and national level. We both see the value of early intervention and seeking ways to support families so that they can better support their children."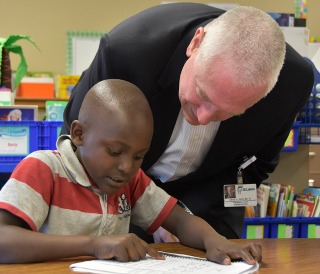 Lowe is new to Taft, but not to the Boise School District, where he has worked for the past 26 years. He teaches courses on leadership at Boise State University and was a member of the Idaho Air National Guard for 21 years.
"I like viewing leadership through many different lenses," Lowe told Dr. Pate.
Taft has large populations of immigrant and low-income students, so the school's approach to innovation with a diverse population finds parallels with health care. Swahili is the second-most-spoken language at the school; in all, 13 native languages are spoken by Taft students.
Immigrant students at Taft spend their first six to eight weeks learning English, socialization skills and the basics of learning and working in an American public school before they join their main classroom.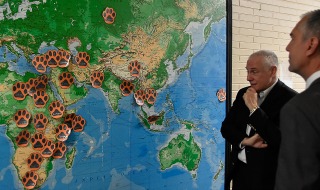 During his visit, Dr. Pate toured classrooms, met educators, helped students with reading assignments and had a spirited conversation with a kindergartner who shared with the head of St. Luke's a keen interest in weed trimmers.
At the end of the tour, Lowe showed Dr. Pate a world map with Taft Tiger paw prints on the countries where the school's international students are from. Several Middle Eastern nations are represented, as well as 16 African nations.