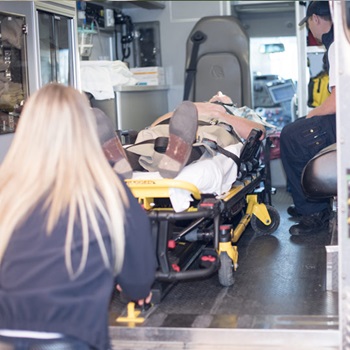 In September 2016, one week following a river trip on the Middle Fork, Walt Femling was walking from his office to his car when something went terribly wrong. He did not know what was happening to him, and he was barely able to make it 20 feet back to his office to call his assistant for help.
Moments later his left side was almost completely paralyzed. When Sun Valley emergency medical services got the call, they wondered if it was an unannounced drill by Femling, who had recently been named the director of public safety for the Sun Valley Police Department. When they reached him, it was clear it was not a drill.
"I remember being in the ambulance some 10-15 minutes later, and they radioed the hospital they were coming with a 59-year-old male with stroke symptoms. I thought to myself, 'I'm having a stroke?'" Femling recalled.
Femling compliments the EMS and the St. Luke's Wood River with their responsiveness, stating that SLWR was waiting and ready to implement stroke treatment procedures. After a CT scan of his brain, doctors administered the "clot-busting" drug TPA, and Femling was transported to St. Luke's Boise via Air St. Luke's helicopter.
"It all happened so fast," Femling said.
The event came as a sharp jolt of reality for a man who is well known as the basis for the hero in a series of four thrillers written by Ridley Pearson. Fictional character Walt Fleming is the sheriff of Sun Valley, and Pearson has said Femling was the inspiration for his adventurous hero.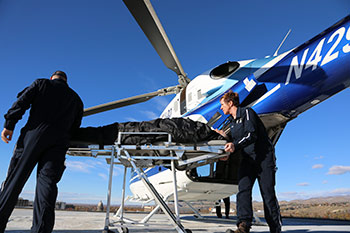 Both Femling and Fleming are considered beloved members of the Sun Valley community, even though one is a fictional character.
In 1979, Femling and his friends from Washington State decided to go on a ski trip before they would return to the city to commence their careers. The local radio station was running an ad for an opening in the police department in Ketchum. Happily for him and for the Wood River Valley, Femling heard the ad and decided to apply and got the job. After seven years at the Ketchum Police Department, Femling was appointed sheriff of Blaine County. He retired in 2011 for health reasons; his priorities changed after he was diagnosed with a rare disease, and he wanted to concentrate on his health and his family. Femling knew that stress could be a major factor in one's health.
After being in remission for two years, Femling was asked if he would fill in for the Sun Valley police chief, who was having quadruple bypass surgery. Femling agreed to help out for four months, which was followed by another four-months as they looked for a new chief. During that process, Femling was asked to stay on. Not only did he agree, he also became director of public safety.
Femling is back at work now. He has returned to his favorite activities, skied approximately 20 days this season and works out five days each week. Because he quickly recognized he needed help, Femling was able to receive fast treatment and had a strong recovery (although he occasionally struggles with a word or two).
Two of Femling's college friends had strokes around the same time he received treatment. They had horrible headaches or other signs, but they didn't recognize them as stroke symptoms and sought treatment after the two hour window for administering TPA. They are still in rehabilitation. Timing is critical when it comes to recognizing stroke signs and symptoms, according to Dr. James Torres, St. Luke's Wood River emergency department physician and St. Luke's Health System stroke director.
"The closer to the time of the first symptoms, the greater the efficacy. That's why it's vital to know the signs and to seek medical attention immediately," he said.
According to Torres, stroke starts with the onset of symptoms. Using the acronym FAST can help people remember what to watch for when recognizing those signs:
Face drooping
Arm weakness
Speech difficulty
Time to call 911
Femling is immensely grateful for the timely, coordinated care he received from local EMS, St. Luke's Wood River, Air St. Luke's and St. Luke's in Boise.
"Having been here since 1979, I know how fortunate we are to have the facility and the level of care we do now," he said.
Femling's experience has come full circle, because his wife Jenny was involved with the campaign to raise money to build the hospital, and he has dedicated 37 years to protecting people in the area they call home.