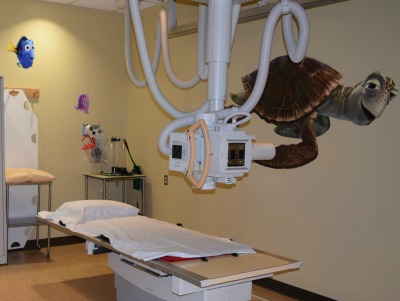 Anxious youngsters headed for imaging services at St. Luke's Magic Valley emergency department now have a posse of large, colorful new friends in their corner.
In March 2017, cartoon decals were placed on the walls of the imaging services room and on portable machines. The whimsical art was made possible through funds from the St. Luke's Magic Valley Health Foundation.
The decals are situated to make sure positioning is as good as it can be for a sometimes-squirmy population of active little patients, and have been positively received by patients, family members and staff.
"By saying 'Look at Nemo,' we can hopefully quicken the exam, distract the child and prevent motion on the final image," said Michael Santistevan, a radiology technologist at St. Luke's Magic Valley. "Another technologist told me she imaged a crying child. As soon as that child entered the room, he stopped crying as he was distracted by the characters on the wall."
For one year through March 2017, in diagnostic radiography alone, 4,250 exams were performed on children aged 0 through 17 years old at the hospital. This number includes all X-ray, special procedure, surgery and fluoroscopy procedures, but does not include magnetic resonance imaging (MRI), ultrasound, nuclear medicine and computerized tomography (CT) scans. This also includes multiple exams on one patient.
The St. Luke's Magic Valley Health Foundation's Children's Area Fund, which receives donations from employees, clinical staff and physicians, is behind the artwork. Donations also come from local companies that raise money for the Children's Miracle Network (CMN).
St. Luke's Magic Valley Health Foundation formed a committee, the Children's Advisory Committee, to include staff, pediatricians and community leaders in how best to utilize donations to benefit the children of the Magic Valley. The committee will receive grant applications from St. Luke's departments and clinics to decide how money will be awarded going forward.