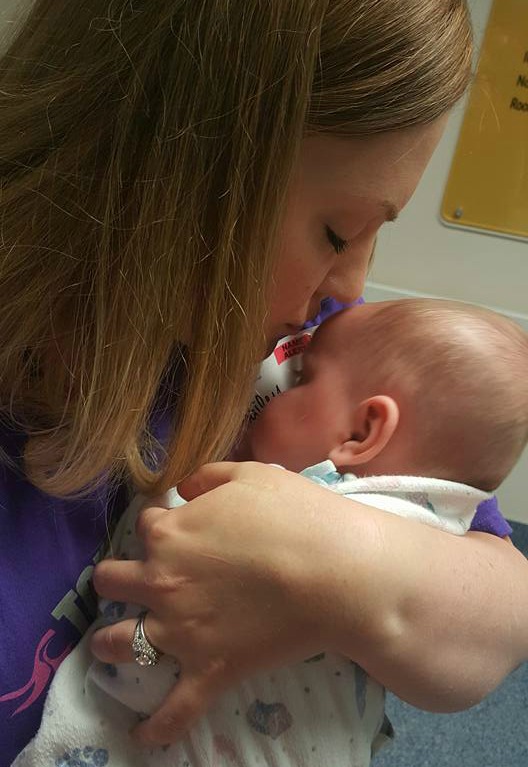 Mindy McGrath had always wanted three children, so when she found out she was expecting twins when her son was 2-and-a-half years old, she was ecstatic.
"I was just thinking, I get my three babies," she said. "I didn't even think anything would go wrong because my first pregnancy was perfect and so was my twin pregnancy."
At 38 weeks, the McGraths welcomed two beautiful baby girls. Mindy named one of the girls Bailey and her husband, Jon, named the other one Lilly.
While both newborns seemed healthy, Bailey had a loud heart murmur that continued to get louder a few days after delivery.
Both Mindy and Jon are in the medical field (Mindy is a labor and delivery nurse at St. Luke's Magic Valley and Jon is a paramedic), so they know heart murmurs are often normal right after delivery. But they asked for an echocardiogram, just in case.
"I noticed it was taking a long time, and then a doctor walks in the room and starts checking her out," Mindy said. "I work at the hospital and didn't know who he was, so I asked one of the nurses and she said he was a pediatric cardiologist. I knew that wasn't a good sign. He said Bailey had Tetralogy of Fallot."
Tetralogy of Fallot (TOF) is a congenital heart defect which often requires open heart surgery.
Mindy focused on the doctor's reassurance that it was a standard procedure to fix her new baby's heart, but when she looked at her husband after they both heard the diagnosis, she was startled by his distraught demeanor.
"I knew it meant open heart surgery," Jon said. "There is nothing normal about stopping a baby's heart and putting her on bypass."
The family went home to wait until Bailey was a little older and stronger to handle the surgery. What followed were five months of fairly normal newborn care, with an extra dose of anxiety.
"I kept wondering if I needed to be afraid of my baby. It took me awhile before I felt comfortable that she would be okay. Her murmur was so loud and strong, her chest would vibrate," Mindy said.
At 5-months-old Bailey was scheduled for open heart surgery at a hospital in Salt Lake City.
For nine difficult days, the family stayed near the hospital and made themselves at home in the waiting room for the seven to eight hour surgery.
Both Jon and Mindy tear up when they talk about the day of the surgery. Knowing their daughter's heart was going to be stopped and having the medical knowledge that comes from their professional lives was both a blessing and a determent.
"It was the worst day of my life when I had to hand her over to the anesthesiologist and he carried her down this long hallway," Jon said. "To physically hand her over was so hard because I'm usually in control. It was really symbolic of us handing her life into his hands."
After hours of waiting, the family was told their miracle baby's heart restarted itself after the surgery to repair an almost dime-sized hole in her heart was over. Bailey was smiling at her parents soon after and the family could finally take a breath of relief.
Bailey is still just a little smaller than her identical twin sister, but her father describes her as the feisty one who will probably walk first. She may need a follow-up cardiac catheterization in 20 years, but for now she is just a normal 15-month-old with a very special story.
"She's my hero, she truly is," her father said. "I don't think anyone is as strong as she is to go through what she did."
It's almost been a year since the surgery and her scar is barely visible, but the strong emotions her parents felt are still close at hand.
"Without a doubt, it was the worst experience of my life, but we are so grateful for the quick diagnosis and excellent people who took care of her," Jon said. "The better the equipment, the more streamlined these processes are for everyone. All the advancements in technology have really made this a normal-type procedure, whereas 15 years ago, this would have been a very life-threatening condition."