In an effort to keep healthcare costs down for patients, improve the health of our community and be better stewards of the environment, St. Luke's recently undertook a major retro-commissioning project at its hospital in Meridian.
Healthcare facilities are the second most energy-intensive buildings, using more energy per square foot than any other type of building except food services. Because of this, energy efficiency is critical. The average hospital spends 2.3% of its operating budget on utilities. For St. Luke's Meridian, that's more than $1.3 million dollars last year.
To reduce the lost revenue from excess energy consumption and increase its Energy Star score, St. Luke's identified low-cost operational and maintenance improvements, and set out to recommission its building systems and improve training with the help of an engineering firm, TME.
Retro-commission projects:
Replaced inefficient HVAC system controls
Reduced steam system pressure
Optimized the space temperature and ventilation parameters throughout the facility
Implemented a new controls sequence for the ventilation system that enables it to operate more efficiently
"These simple, yet effective changes helped St. Luke's Meridian reduce its greenhouse gas emissions by almost 570 metric tons. That's equal to taking 121 polluting cars off the road every year," said Russ Harbaugh who heads up Building Services for St. Luke's Meridian, Eagle, Nampa and Fruitland. "Being more efficient is going to have a huge impact on helping to lower healthcare costs because our electric bills are smaller and our community's air is cleaner."
As a result of those upgrades and maintenance improvements, the Meridian hospital alone now saves 1.8 million kilowatt hours. In dollars saved, that's more than $200,000 a year for St. Luke's.
"Healthcare reform often means reduced reimbursement. That drives the need for reducing expenses, while not jeopardizing the services we provide," said Dennis Mesaros, the Meridian Site Administrator. "The retro-commissioning partnership with Idaho Power offers a creative approach that helps us maintain services to the community, and meet our obligation to ensure access to healthcare sustains over time."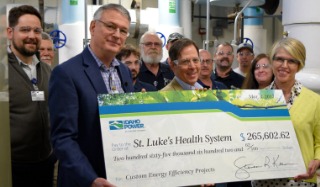 In recognition of the energy-savings, Idaho Power presented St. Luke's with an incentive check on Friday, and got to see firsthand the work done.
"We are proud to partner with St. Luke's on this project," said Lisa Grow, Idaho Power Senior Vice President of Operations and Chief Operating Officer. "Idaho Power and St. Luke's have very similar missions. We both serve in the same communities and provide people with critical services that dramatically improve their quality of life. We want to be efficient and cost effective in providing those services, and we want to care for the environment as we do so."
St. Luke's says Idaho Power's incentive program was instrumental in getting the project approved, and paved the way for similar projects both in Meridian and other St. Luke's area hospitals.
The American Society for Healthcare Engineering (ASHE) started the Energy to Care (E2C) campaign in 2014. It challenged hospitals and outpatient clinics to save energy and improve their Energy Star Ratings. The program's gone from 239 members to 2,131. Together, those healthcare facilities have saved $127 million.