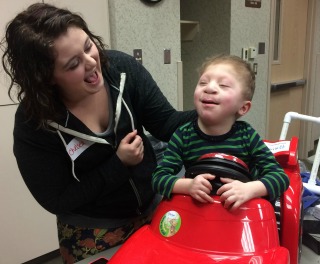 Care providers and engineering students recently teamed up to help children with mobility issues.
Go Baby Go is an event organized by St. Luke's Children's Therapy and the Boise State University Women in Engineering program to produce battery-operated cars for children with mobility issues and disabilities, and then let them go on a drive!
The Boise State students recently adapted battery-operated cars to make them more suitable for young children who can't crawl or walk, or who have other special needs. The vehicles were modified with PVC pipe, switches, cushions and straps to allow children to drive themselves without help.
The event, held March 11 at St. Luke's Meridian, provided much-needed care-free fun. In addition to giving the children a chance to drive the cars, it also enabled them to interact with other kids. Children with difficulty moving independently can also struggle to socialize and play with peers and siblings. By using motorized cars to increase independent movement, children have a fun way to connect on a new level.