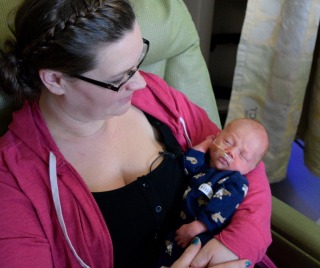 Tait couldn't wait. At just 33 weeks, the baby boy from Cove, Ore., was unexpectedly ready to get an early start on life. As a result, Tait has quite the birthday story as Air St. Luke's first baby ever born while transporting a mother to the hospital, delivered on the tarmac at the Boise Airport.
"He came into the world in a whirlwind, that's for sure," said Tait's mother, Cassidy Ramberg.
Tait is Ramberg's third child. Mother's intuition told her Tait might not wait until his due date on April 6. Instead, seven weeks too soon on Sunday Feb. 19, her water broke. Ramberg was in preterm labor hours away from a newborn intensive care unit (NICU), and 20 minutes from the nearest hospital in La Grande, Ore.
"At that small hospital there it's no question if you're before 34 weeks they automatically fly you out to a bigger hospital," Ramberg said.
Air St. Luke's Maternal Child transport team (MatCh) was dispatched to fly Ramberg to Boise. Once delivered, her premature baby would receive care at St. Luke's Children's Hospital, home to Idaho's largest NICU. The physician in La Grande determined Ramberg was stable enough to move.
"She didn't look like she was actively laboring. She hadn't changed in the three hours she'd been in La Grande," said MatCh team nurse Katie Leatham. "Based on her exam and contractions being seven minutes apart, she didn't appear to be in active labor."
The team loaded Ramberg on the airplane for the 36-minute flight to Boise, administering medication to slow the contractions.
"Probably 20 minutes into the flight she had a contraction and she changed. Her demeanor changed. She sat up with eyes big and looked at me and said, 'Something's different,'" Leatham said.
Leatham says Ramberg had dilated from two centimeters to almost seven. The baby was in place and Ramberg was in labor.
"People started moving around real fast in the airplane. The nurse said 'We don't want to deliver this baby in the airplane if we don't have to,' so she had me doing some real intense breathing through contractions," said Ramberg. "I heard her talking to the other gal and they were talking about trying to find a different airport to land at and how much longer it was going to be."
"And we were like, can you fly any faster?" Leatham recounted with a laugh.
Air St. Luke's was given priority landing as it approached the Boise Airport, with all other air traffic told to hold. An ambulance was waiting at Turbo Air with additional medical staff to assist the team on the incoming flight. Leatham thought the helicopter would take too long and be too small for what could not be stopped.
"If we're going to have to deliver outside a hospital, if it's in an ambulance, in my mind, there's more room," Leatham said. "We have our isolette, there's oxygen and more supplies, so I felt like the ambulance would be the best scenario."
The airplane doors opened at 4:28 p.m. Leatham, along with her partner (respiratory therapist) Vickie Lancaster and a ground paramedic rushed Ramberg into the waiting ambulance, but on her next contraction, she delivered Tait at 4:31 p.m. on the tarmac. The ambulance hadn't even made it outside the airport gates.
"I was pretty emotional. I was glad we made it out to the ambulance so they had everything we needed, and he was born screaming," said Ramberg.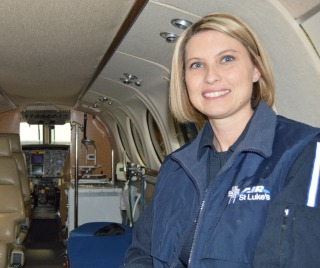 Katie Leatham, Air St. Luke's Maternal Child transport team nurse
At lights and siren speed, St. Luke's Boise is a 10-minute trip. As a former labor and delivery nurse, and a St. Luke's NICU baby herself, Leatham understood the complexities of a birth this early.
"What's going through mind at that point of 33 weeks is respiratory status. How's the baby breathing? Their lungs aren't fully mature at 33 weeks. Also, temperature is a big one, so we turned the heater up really high in the back of the ambulance," Leatham said.
This is exactly the type of emergency the MatCh team trains for year-round. It's the only high-risk mobile obstetrics maternal-child team in Idaho. St Luke's Health System started this service in the late 1960s to have a highly-specialized group dedicated to transporting moms and babies from critical access hospitals by ground. The service then grew to include fixed-wing transport in 1989. The Air St. Luke's MatCh team was born as a full-time operational group to support NICU, pediatric intensive care unit (PICU) and high-risk OB patients in 2010.
If a delivery must happen, even though they work to prevent them, these nurses and respiratory therapists are experts thanks to clinical time spent in the OB, PICU and NICU units.
What's remarkable, the team says, is in all these years, with close to 150 high-risk OB transports every year, Tait was the very first baby born en route.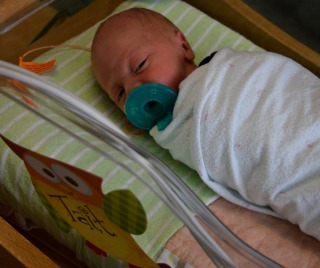 "We've had close calls where the patient has delivered within minutes of getting to labor and delivery, but this is the first time we've actually delivered inside a vehicle," said Leatham.
During all the other time they're not delivering babies, the MatCh team transports pediatric patients and neonatal patients from small hospitals and rural communities to critical care at St. Luke's Children's Hospital, which is the most remote children's hospital in the lower 48 states. They've been known to travel as far west to Burns, Ore., North to Grangeville, occasionally east into Wyoming, and South to Elko, Nevada.
The MatCh team also helps transfer critically-ill children who need specific specialized care in Salt Lake, Portland, Seattle, Denver, Las Vegas, San Jose and even Los Angeles.
Compared to those trips Tait's six-mile journey was short, but didn't feel like it to Ramberg.
"It was kinda scary being alone and knowing he was so early," she said.
The NICU and labor and delivery teams met the ambulance in the emergency department, and whisked the Rambergs in for treatment. Despite being seven weeks ahead of schedule, Tait had no complex medical problems. He just needed a little extra care to learn how to eat on this own.
Ramberg knows, had she delivered Tait in La Grande, they would have spent his first few days apart in separate states. Instead, the MatCh team made it possible for the mother and son to be together from his dramatic start.
"I can't thank them enough for the great job they did," she said.