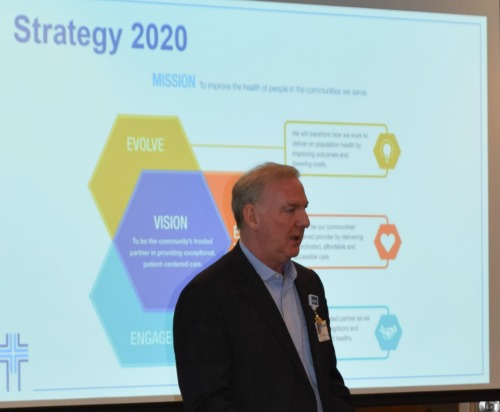 St. Luke's Magic Valley recently recognized 30 organizations receiving grant funds from the Community Health Improvement Fund.
At the core of St. Luke's Magic Valley's mission is a commitment to improve the health of the people in communities served. The Community Health Improvement Fund provides financial support for organizations who share the same goal.
The fund was created by Magic Valley Regional Medical Center in 1998. As part of the agreement with Twin Falls County in 2006, St. Luke's Magic Valley committed to continue this valuable community benefit program.
Since 2006, more than $2.6 million has been distributed to organizations throughout the communities of the Magic Valley. The amount available for funding this year was $275,500; money which is spread between two rounds of grant applications.
At a luncheon on June 1, grant recipients described their organizations and how the money will be used.
"We provide life skills training for adults with disabilities and St. Luke's has graciously supported us throughout the years," said Susan Nickell, Magic Valley Rehabilitation Services. "These dollars go 100 percent to support teaching life skills and giving individuals with disabilities the best life they can achieve. We are so eternally grateful. Thank you, St. Luke's."
"We are privileged to be a part of your mission," St. Luke's Magic Valley Administrator Mike Fenello told grant recipients. "We are looking forward to continuing to work with you in the future."
Grants are awarded based on fulfillment of community health priorities, which are based on St. Luke's 2016 Community Health Needs Assessments (CHNAs). The CHNAs are designed to better understand the most significant health challenges facing the individuals and families in the communities served.
The priorities include improving the prevention and management of obesity, improving the prevention and management of diabetes, improving the prevention, detection, and management of mental illness and reducing suicide, improving access to care, and improving the prevention of unintentional injuries.