English Poet Walter Savage Landor wrote, "Music is God's gift to man, the only art of Heaven given to earth, the only art of earth we take to Heaven." At the end of life, it's that gift Boise Hospice Singers relies on to comfort St. Luke's Hospice patients, their families, friends and caregivers.
For nearly a decade, the eclectic volunteer choir has traveled to Treasure Valley homes and assisted living facilities to sing for patients with a terminal illness. Boise Hospice Singers values song as a way to soothe those struggling through the stress, anxiety and pain that can come during the final few weeks and days. Each member has their own motivation for choosing to be there during what many consider to be the most difficult time.
"I grew up in a very Irish family and one of my fondest memories is of funerals because always after the funeral there was lots and lots of singing," said Nancy Doherty Oppenheimer. "In hospice, there is one song we sing called Angel Band, and it talks about how the angels singing brings you into heaven, and I always just think of growing up and having a joyful send-off to whoever just died."
Lisa Hecht sings with Opera Idaho and the jazz band Boise Straight Ahead, but says her most rewarding singing is for those at the end of life, or who served in the armed forces. "They're appreciative. We bring them joy and we bring them solace and I would want that for me."
Studies show there are therapeutic benefits to simply hearing music. The melodies can help to lower blood pressure and heart rates, decrease stress hormones and increase those hormones that make you feel more happy and content.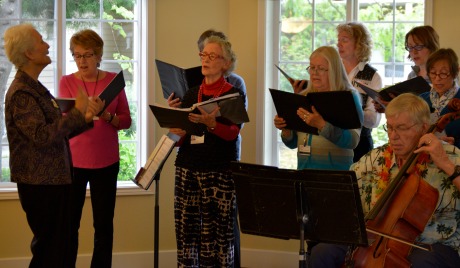 "People in hospice care have lost so much, and this is a way of bringing some added enrichment and pleasure into their lives," said Susan Gelletly. She started Boise Hospice Singers in 2009, after being inspired by a similar group in Vermont. Together with a group of musically-inclined friends, she approached St. Luke's Hospice, which welcomed the opportunity to create another close, personal connection for people in hospice care.
Through the years, the choir has included concerts for people who aren't just on hospice, but may be homebound for other reasons, or living in a group assisted living facility. The choir's schedule is booked on a referral basis, and can organize within a few hours' notice if a patient is declining. Each performance is carefully selected for the patient and their musical preferences. If they can't speak for themselves, the choir takes suggestions from family of what their loved one would like to hear.
Karen Kelley joined Boise Hospice Singers after her own experience and appreciation for the power music can have for everyone in the room. "When my own mother died in hospice care I was able to be with her and the last thing I did for her was sing a song. She passed shortly thereafter and I hold onto that in my own life. I'm so lucky. I'm so honored to be able to do that for people at the end of their lives."
Each soprano, alto, tenor and bass goes through a strict certification in order to officially be a St. Luke's Hospice volunteer. During their routine practice sessions, they master an elaborate library of music from secular to religious, old to contemporary, and calming to energizing all with the goal of being prepared for any requested favorites.
"One of my favorite memories is of Veterans Hospital," recalled Gayle Speizer. "We sang each service song and there was this little woman and she couldn't have weighed 98 pounds, but she was an ex-Marine and Susan gave a flag to her. We sang the Marines hymn and she was waving that flag and smiling and just so full of energy and life."
Lyrics can be a catalyst to happier times and memories, particularly for dementia patients.
"People who have not been very reactive, when they hear the music they have loved their whole life they relax, they can reawaken and become more responsive," explained Gelletly as she recalled singing for a World War II veteran with Latino heritage.
Gelletly said the choir learned "Amazing Grace" in Spanish just for him.
"He wasn't responding much to the Spanish version of the old hymn, so we sang 'You Are My Sunshine.' He brightened up, looked around and his wife came into the room at that time. It turns out it had been their bonding love song in their youth, and that's where the connection ignited," Gelletly said.
It's those moments that inspire members of Boise Hospice Singers to continue to share their gift, even in settings they know are full of grief.
"Song is universal. Whether you hear the words, or not, you feel the emotion," said Kelley. "We're so grateful to be able to be in the presence of people at that amazingly sacred moment. They let us in and it's a gift that they do that."
Contact the Boise Hospice Singers (tenors and basses are especially welcome) to learn how to join or to invite the choir to sing for someone in hospice care: Call (208) 870-7604 or contact them by email.

You can also make a donation to support Boise Hospice Singers. Contributions are managed by St. Luke's Health Foundation, and are tax deductible.
Read the Idaho Statesman's story and watch the video about the Boise Hospice Singers.