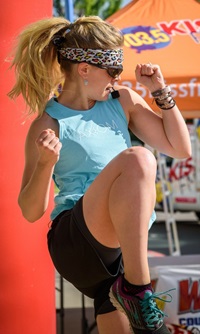 St. Luke's FitOne registration officially kicked off June 7 as part of the National Running Day celebration at Axiom Fitness in Meridian and Boise.
Participants were invited to register for any FitOne distance for $20, and in addition to saving money their registration also helped support St. Luke's Children's Hospital. Axiom agreed to donate $1 for every registrant to support and at the end of the day $10,786 was raised for the hospital, thanks to donations from Axiom and additional donations from participants.
The registration kick-off included free fitness classes, nutrition education and prize drawings.
A total of 7,333 runners and walkers registered on June 7. Race day is Sept. 23 for the St. Luke's FitOne Half Marathon, 10k and 5k.