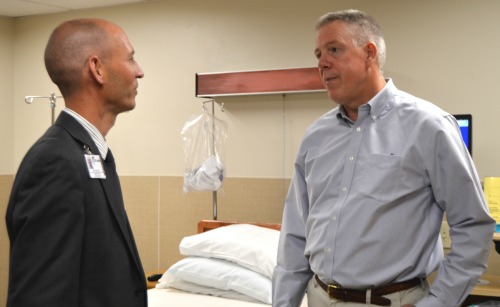 As the community's needs have shifted over the years, St. Luke's Elmore Medical Center has adjusted to those changes in order to better serve the people in that community. Some of those changes are easy to see, like the construction underway now to expand the emergency department. Other shifts happen quietly, but still serve an important need for patients needing medical care.
The hospital is expanding its medical staff to help accommodate an anticipated increase in OB services. The recent change is in response to the Mountain Home Air Force Base decision to discontinue its inpatient medical care. The base hospital will continue to offer outpatient care, but for inpatient services (such as labor and delivery), patients will need to receive care at a nearby hospital.
"We consider the military part of our community and we are proud to serve them," said Mike Blauer, St. Luke's Elmore administrator.
The hospital has a history of building relationships with others in the community to better serve its residents. For example, St. Luke's Elmore is working closely with the Glenns Ferry Health Center, because its outpatient clinics don't have an obstetrician. Dr. Justin Smith, a family medicine physician who also specializes in obstetrics and gynecology, recently joined St. Luke's Elmore (he previously provided care at St. Luke's Jerome) and visits the Glenns Ferry Health Center a few times each month to meet with patients who might want to deliver closer to home.
The goal is to help people understand how and where they can access care when they need it.
"If they want to deliver locally we are an option for them," Blauer said.
Several changes have positioned St. Luke's Elmore to become better-equipped to manage the changes in its growing community:
The hospital has earned accreditation from the Joint Commission, an independent, not-for-profit organization that accredits and certifies more than 15,000 health care organizations and programs in the United States.
In addition to Dr. Smith joining St. Luke's Elmore, the hospital now has a general surgeon, Dr. Karen Galvan.
Several hospital rooms have been remodeled to accommodate labor and delivery.
A new 10-bed emergency department is expected to be complete in the fall, including an ambulance bay and a separate waiting area.
In the past few years the hospital has averaged about 125 births each year. That number could double in the next couple years because of the changes at the base and the growing relationship with the Glenns Ferry Health Center.
"We are here to serve the community and we are proud to do the work we are doing," Blauer said.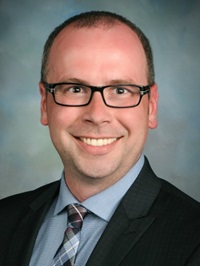 St. Luke's Elmore Welcomes New Foundation Director
In late June, Matthew Johnson joined St. Luke's Elmore as director of the foundation.
Prior to joining St. Luke's, Johnson worked at Glenns Ferry Health Center Inc., serving as manager of the Patient-Centered Medical Home-Quality/Policy Program and the outreach and enrollment coordinator. He served five years in the U.S. Army as an infantry sergeant and, in the early 2000s, he worked at St. Luke's Boise as a central dispatcher.
Johnson, a Mountain Home native, has a bachelor's degree in social science from Boise State University and an MBA from Northwest Nazarene University in Nampa.
As foundation director, Johnson will manage the strategic role of philanthropy to achieve long and short-term goals of the St. Luke's Elmore Medical Center. He will also serve as the primary marketing and communication coordinator for St. Luke's Elmore.