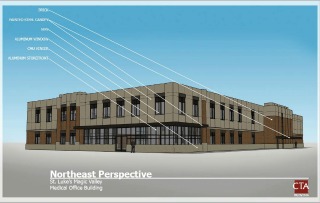 Another building block toward seamless care is taking shape at St. Luke's Magic Valley.
Construction is starting on a new medical office building on the main campus in Twin Falls.
"When we were originally designing the new hospital and this campus, we did have plans for another medical office building," said Debbie Kytle, St. Luke's Magic Valley administrator of physician services. "In our prioritization of services, we ended up deferring the medical office building to allow capital for other needed services. At the time, the biggest need was an inpatient rehabilitation unit."
St. Luke's Magic Valley opened its doors in May 2011. Since that time, additional construction projects on the main campus have been completed, including a new hangar for Air St. Luke's and a surgery center that opened in November 2016.
The new two-story 57,640-square-foot medical office building will be located near the east end of St. Luke's 40-acre Twin Falls property. Construction fencing will be placed surrounding the site.
The cost for the construction, fixtures and equipment is approximately $27.2 million.
"This project is really part of our regional medical staff development plan which is a five-year plan to evaluate community growth," Kytle said. "We are looking at the number of providers and the number of retirements to see where we need to expand our services in order to meet the needs of the region.
"For next year, we will have 20 to 25 additional providers coming to the region. They may be going into this new facility or existing facilities vacated with the opening of the new medical office building.
"We already have recruited 15 providers for 2017, which include physicians, nurse practitioners and physician assistants," she said. "Over the next five years, we are anticipating recruiting 100 new providers into the region to support population growth and upcoming provider retirements."
The new medical office building will house St. Luke's outpatient clinics and services, including Internal Medicine, Occupational Medicine, Endocrinology and Diabetes Management, Otolaryngology (ENT), Rehab Services, Pain Medicine, outpatient laboratory draw station and outpatient imaging services.
Right now, these services are in different places throughout Twin Falls. This new building will allow St. Luke's to expand capacity; clinics being vacated will free up space for other uses.
"In order to improve the health of people in the region, we need to improve their access to care, which requires the right number of providers and clinics," Kytle said.
A tentative date for opening is set for February 2018. Once completed, the building will be open Monday through Friday.