Winter Safety Awareness Takes Center Stage on Idaho's Roads, St. Luke's Campuses
By Chris Langrill, News and Community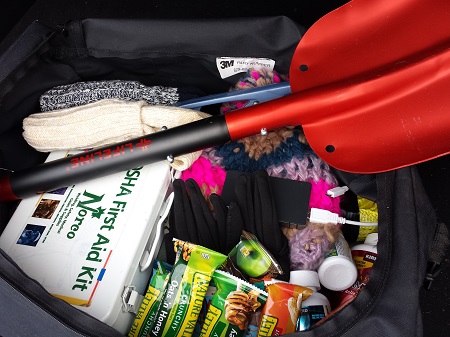 There's something magical about enjoying Idaho's mountains and backcountry when the terrain is blanketed in snow.
But Lisa Spanberger, a disaster preparedness officer with St. Luke's, would remind you to be prepared and take precautionary measures before you begin a trip during the winter.
"I think we're lucky to live in Idaho, and we have a lot of winter recreation options. … However, Idaho is a pretty rural state," Spanberger said. "So, it's really important to be prepared and have some resources should you get stranded in cold weather or snowy conditions."
Spanberger recently met with Treasure Valley media members to stress the importance of winter safety awareness.
Before they travel, people should tell family members and friends where they are going. Additionally, they should know what road conditions they will be encountering.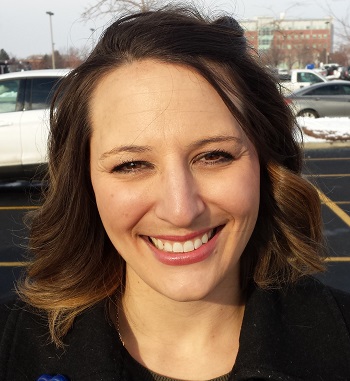 Lisa Spanberger is a disaster preparedness officer with St. Luke's.
"Preplanning is the key … to help keep you safe," Spanberger said. "We have a lot of great resources in Idaho that you can utilize. You can check road reports by going to 511.idaho.gov or by calling 511."
Spanberger also stressed the importance of having a winter car emergency kit and demonstrated the items she carries in the emergency kit in her car's trunk.
Obviously, the needs might differ depending on travel between Boise and McCall versus travelling into rural backcountry.
"Make sure your kit fits your needs," Spanberger said.
A well-stocked kit would include:
Small shovel
Snacks
First-Aid Kit
Tow chain/rope
Windshield scraper
Matches
Basic medications (and medications specific to your needs)
Water
Flashlight or signal light
Extra hats, socks and gloves
Blanket or sleeping bag
Jumper cables
Alternate power source to charge cell phone
"If you do become stranded, either because of car trouble in cold weather or you're stuck in the snow, it's recommended you actually stay in your car, unless you can see buildings that you could walk to fairly easily," Spanberger said.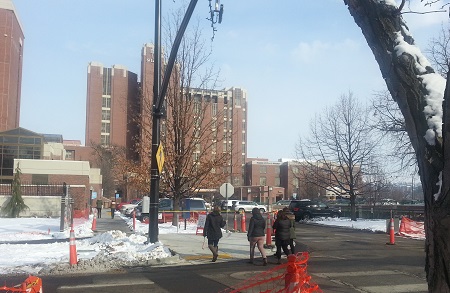 SAFETY AWARENESS AT ST. LUKE'S
St. Luke's hospitals are performing a variety of measures to make sure their campuses are as safe as possible for patients, employees and visitors during the winter months.
At St. Luke's Magic Valley, parking hours have been established for employees so Building Services can focus on plowing in specific areas.
"We also have gone to the next step in that we are asking patients when confirming appointments to plan on icy conditions, leave earlier than planned and bring a person to assist them with getting into the building," said Todd Rothfuss, Magic Valley's plant manager. "We will direct them to the walkways during the conversation if they choose to walk, but also tell them about our shuttle service, in which we supply them with the phone number so we can pick them up at their car if that works better for them."
At St. Luke's Boise, a team is using the same injury-tracking software developed for Bogus Basin to identify the most hazardous areas in Boise and Meridian. Those areas will be maintained more frequently by Building Services. Also, safer routes have been identified through signage around the Boise campus.
At St. Luke's Wood River, the Building Services crew is monitoring the parking lot six times each day to combat ice.