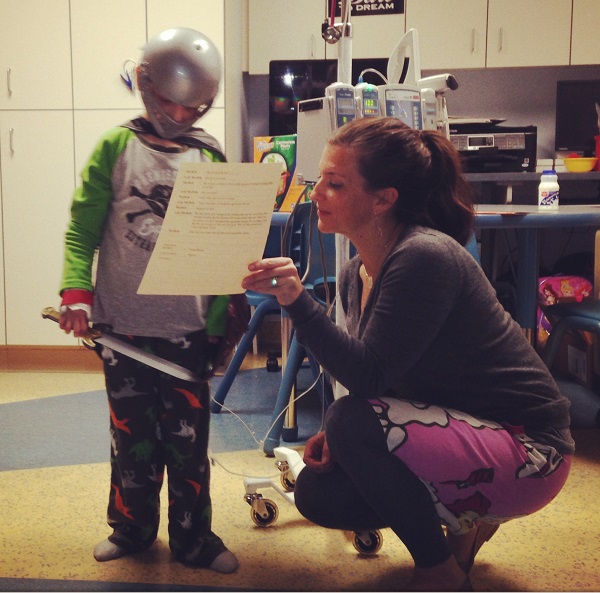 "For beauty lives with kindness" ­– William Shakespeare
Inspiration comes in many forms. For Renee Vomocil, inspiration comes in the form of children.
In 2012, Vomocil was the education director for the Idaho Shakespeare Festival. It was a position she cherished, but she also felt there was something missing.
"I didn't feel like I was giving back enough, to the community," Vomocil.
But then Vomocil found a way to fill that void.
"I had a friend who was a child-life specialist at St. Luke's, and I found out there was a school at St. Luke's," Vomocil said.
The school's mission is to help children who are receiving treatment to continue their education and not fall behind their peers.
Vomocil decided to combine her love of Shakespeare with her passion for helping children.
"So, I got in contact with Carla Hart (then the supervisor of St. Luke's School Program), and we just hit it off," Vomocil said. "With information about what the school needed and what the hospital needed for the kids, I created this curriculum."
The Helena Project – named for a Shakespeare character with unwavering hope – is now in its sixth year.
"We pick a Shakespeare play each year and break it down into 10 scenes," Vomocil said. "And while there are a lot of lines that are Shakespeare's lines that he wrote we also add in some narrative that helps the kids understand the arc of the story."
Vomocil has presented the program's curriculum at three national conferences, including at the Folger Shakespeare Library.
"You don't get asked to speak at the Folger Library just by happenstance," said Celeste Keller, director of major and planned gifts at St. Luke's Health Foundation.
Keller introduced Vomocil to Hart, and watched as the two built the program from the ground up.
"They were literally doing this on a shoestring budget," Keller said. "But they figured it out, and after the first year the nurses were saying, 'Wow! How did this happen?'"
Keller has witnessed many of the Helena Program's successes over the years, as children don assorted capes and crowns and become transformed by the words of Shakespeare.
"I've seen a little kid deliver the famous Hamlet speech on his own, while he's recovering from a brain tumor," Keller said. "I couldn't do that."
An obviously inspiring moment.
And moments like these inspired Vomocil to take the next step in her career. She decided to go back to school and become a nurse.
Vomocil now has two roles: She is a pediatric nurse at St. Luke's Children's Hospital in addition to being director of the Helena Project.
She said she has found the two positions complement each other.
"I feel like I teach better knowing the medical side of what's going on with these kids," Vomocil said. "And I also feel like I'm a better nurse because I've had the experience of playing with those students."
Keller said she has been awed watching Vomocil work tirelessly for children in the years she has known her.
"I've never seen her without a smile on her face," Keller said. "She has a zest for doing good things and a zest for life and helping others.
"She's just a gem."