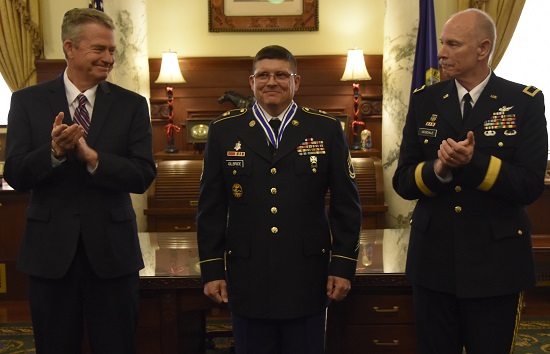 A man severely injured in a motorcycle crash received immediate, life-saving help at the scene, thanks to an off-duty paramedic who arrived just seconds after the accident occurred. Sergeant First Class Leo Gilbride, the ambulance services manager at St. Luke's Elmore, was recently honored with the Idaho Cross Award for his life-saving measures. Gilbride serves in the Army National Guard and has been a paramedic for 30 years.
In late September of 2016 Gilbride was returning home from a trip to Washington when he noticed a group of motorcycles riding on Interstate 84 near Sand Hollow. He recognized one of the motorcyclists as then-Nampa Fire Chief Karl Malott as he passed Gilbride with the other riders. Just seconds later Gilbride saw cars scattering over the freeway. He grabbed the emergency bag he always keeps in his car and ran to help.
Malott was unconscious and had no pulse. Gilbride assessed his injuries, and soon an off-duty nurse, EMT and a Boise fire chief jumped in to help. Malott sustained significant head trauma, road rash and trauma to the airway. Facing excessive DUI charges, Malott resigned from the fire department in November 2016.
The governor and commanding officers periodically award the Idaho Cross (the highest state ribbon) to Idaho residents who are members of the military who have saved lives.
Idaho Lt. Gov. Brad Little presented the award to Gilbride on Dec. 5 in the Governor's Ceremonial Office. The ceremony included a letter written by Roy Miller, Canyon County Ambulance District battalion chief: "It was clearly evident that Mr. Gilbride kept a chaotic scene calm and focused. It is my professional opinion that if Mr. Gilbride had not been on scene and acted in the manner that he did, the patient would have died on scene."