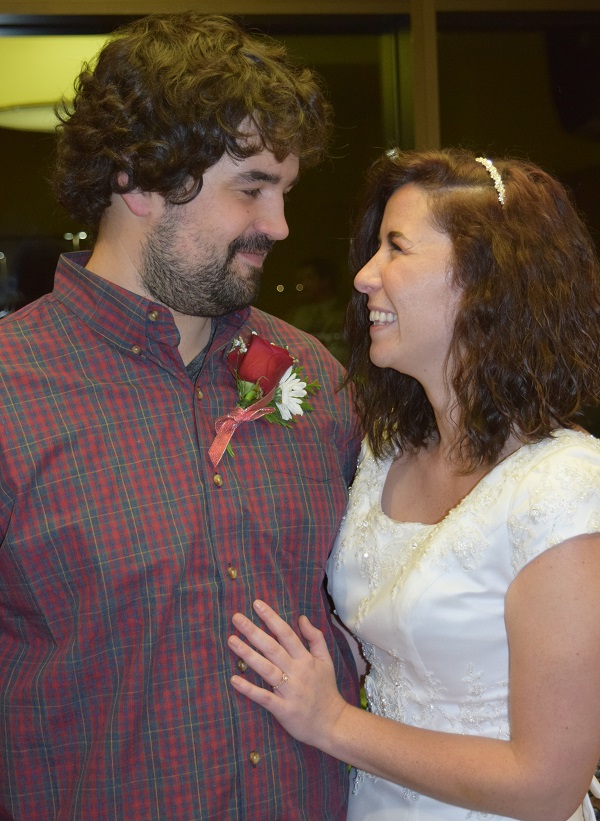 A white dress, flowers, wedding rings and a celebration of marriage.
A bride and a groom exchanging the most sacred vows and dedicating their lives to each other, in front of their family and friends.
It was a wedding unlike others, however, with the ceremony being held at St. Luke's Magic Valley in the Intensive Care Unit (ICU).
"Around noon, we decided that we wanted to have a wedding," Whitney Romans said. "My mom has stage 4 cancer. She is having a lot of complications from it."
The couple decided to get married at the hospital on Sunday, Dec. 10, so Whitney's mother could see the ceremony.
"My mom and I have talked about my wedding from the time that I was little," she said. "I know that it meant so much to her to be able to be there. I can't imagine having a wedding without my mom. She is the most important person in the world so it meant everything to me."
Whitney's new husband, Nathan, said with his mother-in-law's declining health, the wedding needed to occur immediately.
Just that morning, the couple decided it was time to tie the knot. Leaving only hours to plan for the wedding.
"At first, I thought it was going to be me, Whitney, her parents, my parents, and a pastor. But, the hospital staff heard about it and they ran with it," Nathan said.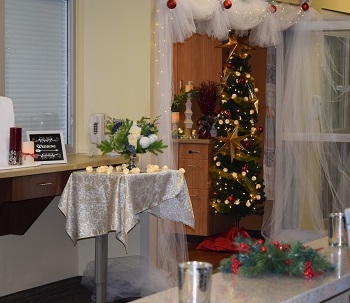 With the clock ticking, St. Luke's hospital staff sprang into action. Rallying the troops to make this family's wedding ceremony and reception as wonderful and pleasant of a memory as possible. Whitney's mother's room in the hospital's ICU was transformed into the ceremony area and the ICU family waiting area down the hall was transformed to become the reception space.
"When we came back later in the day to check it out, we were blown away by the decorations, flowers and food," Nathan said.
"I literally didn't have to do one thing for my wedding," Whitney said. "They made it beautiful. They decorated. They had cakes made for us. They made me a bouquet, and my mom a corsage, and some boutonnieres for my dad and for Nathan. The ICU director's wife brought in some dresses and hers fit me perfectly."
Because the ceremony was last minute, the couple also made the decision to live-stream the ceremony so other family members and friends that couldn't make it could watch online.
"Everyone that I have spoken to just can't believe that they would do this. No one has ever heard of having a wedding in an ICU," Whitney said. "I think that I couldn't have asked for a better wedding. Obviously, I would have loved if my mom could have been there with me to get ready. I know that she loved it and it meant a lot to her. I don't regret anything about it. It was perfect."
While the wedding itself was "perfect," Whitney is still holding on to hope that her mother's health will improve.
"I am still praying for a miracle for my mom. She is quite literally the best human being that I have ever known and I don't know anyone that would say otherwise. I told her after the wedding that we are still going to have a reception and I expect her to be there and she smiled as much as she could. I would just like everyone to pray for her."
The cost of medical care for their family is high. In lieu of gifts for the bride and groom, they have asked for support of their family through a
GoFundMe page
.