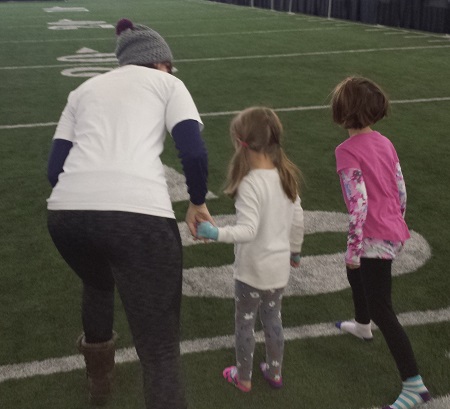 Christine Lodal has several family members who hail from the state of Wyoming. So when Lodal heard the Wyoming Cowboys were going to face off against Central Michigan in this year's Famous Idaho Potato Bowl she decided to attend the football game.
Lodal also wanted to bring her young daughters, Rylie and Addie, but she knew that asking the 4- and 6-year-old children to sit through a football game in frigid weather might try their patience.
That's why the St. Luke's FitOne Family Field Day was the perfect pregame idea for the Lodal family.
"We're really excited that they have a place to run around before the bowl game, because they're going to be cold for a while," Lodal said.
The FitOne Family Field Day was held next door to Albertson Stadium in the Caven-Williams Sports Complex on Friday, Dec. 22. The event featured plenty of ways for kids and their families to burn some energy. Those who completed four of seven athletic events -- including the football catch, the vertical jump test and the 40-yard dash – were awarded a prize.
The complex was bristling with activity as hundreds attended the event. The first 200 through the door received FitOne winter hats.


---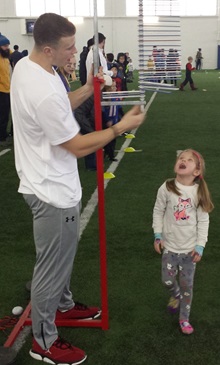 "It's been an awesome turnout with all kinds of families and kids," said Samantha Vella, program and events coordinator for FitOne. "We want to promote healthy, active living in the community, and we like to focus on family, because those healthy habits really start at the family level. So, we love getting families in here with all their kiddos. It's great when parents are active with them because kids love that, and it really helps them bond.
"Who doesn't love to race with their parents?"
There was also learning to go along with the activities. Jake Hardy, the community relations coordinator for St. Luke's Sports Medicine Concussion Clinic, was teaching families about awareness, as was Josie Bryan, the child injury prevention coordinator for St. Luke's Children's Hospital. Axion employees were also on hand to time races and monitor the different football-related events.
Christine Lodal, who was sporting her Wyoming jersey, appreciated the event. As a special education teacher at Eagle Middle School, she is aware of the benefits of children getting exercise.
"My girls are having a great time and we're taking a lot of pictures and sending them (to family in Wyoming)," Lodal said. "We're here representing our tribe, and everyone in Wyoming is living through us via Facebook."