Passion for Helping Others Motivates St. Luke's MSTI Supporters
By Chereen Langrill, News and Community
A girls basketball coach who is also a cancer survivor. A group of women honoring a friend's memory. Leaders in the business community. What motivates people to give is deeply personal and vastly different for each individual.
For more than four decades, strong philanthropic support has helped St. Luke's Mountain States Tumor Institute purchase state-of-the art equipment, provide additional patient support and fund innovative research.
Philanthropic channels range from well-known annual events, such as the Killebrew-Thompson Memorial golf tournament, to grassroots efforts that quietly provide support. Here are some examples.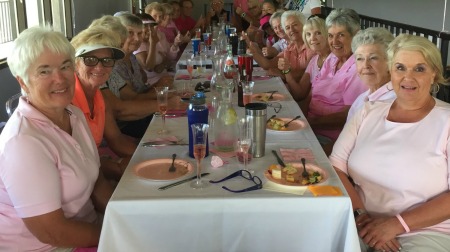 Community Events
Participating in a favorite activity and turning into an opportunity to raise money for St. Luke's MSTI is so common within Idaho that it is challenging to list all of the fund-raising events held throughout the year. Here are just a few:
Several ladies golf leagues in Magic Valley raise money for breast cancer screenings and awareness. For example, the Blue Lakes Country Club Ladies Golf Association established an endowment fund to support MSTI patients. Other groups supporting MSTI include the Jerome Country Club Ladies League, the Clear Lakes Country Club Ladies League, Twin Falls Muni Twilight Ladies League and the 93 Golf Ranch Ladies League.
St. Luke's MSTI Fruitland is raising money to build the Respite House, which will enable patients (and their families) to stay in town while receiving cancer treatment. Without that structure in place, some patients must travel for hours to receive treatment, placing a strain on their jobs, family obligations and household budget. In turn, the patient assistance fund helps those who are receiving cancer treatment and need help with expenses such as gas or new car tires. The Emmett Ladies Golf Association and the Country View Ladies Golf Association support both endeavors in order for patients to have better access to care.
The Friends Always Club has been raising money for St. Luke's MSTI Fruitland since 2009. The club hosts an annual Bunco Bash and has raised money for the Respite House and for the MSTI Fruitland patient assistance fund. The 2017 Bunco Bash raised $15,000 for patient assistance.
Filer Chicks N Chaps Women's Rodeo Clinic will be held for the first time in Filer, Idaho on Sept. 1, 2017. In addition to introducing women to the sport of rodeo, it also raises money for local breast cancer patients.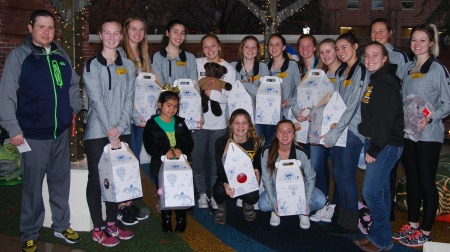 Bishop Kelly High School girls basketball coach Derek McCormick, left, raised money for MSTI pediatrics; his contribution inspired his team to donate bears to young MSTI patients.
Youth Sports
When Derek McCormick was diagnosed with leukemia, he quickly learned how valuable it could be to find support from his community and the people who cared for him at MSTI. Last season, it inspired him to donate his coaching salary to MSTI. McCormick is the girls basketball coach at Bishop Kelly High School.
"I chose to do it that way because it gave me the extra motivation to coach not just for myself or my school but for the kids who would benefit," McCormick said.
He was especially moved to help children receiving cancer treatment at MSTI. His donation helped support the new Adolescent and Young Adult (AYA) navigator role for MSTI pediatrics.
"I saw young kids suffering through my journey and it was heartbreaking to me," McCormick said. "I wanted to help make their journey better."
He wasn't alone in wanting to support the place where he received great care. In December, his players joined him in a MSTI and brought along about 20 Teddy bears for the young patients.
"Our school has been hit with some cancer in the student body the past few years so I feel like the girls took this very serious and wanted to help in any way they could," McCormick said. "It felt really good to be able to help out as a group and help kids similar to themselves."
Kids in Twin Falls helped support St. Luke's MSTI through participation in a summer camp that focused on football.
In June 2017 a new sports camp gave Magic Valley kids the chance to learn football skills from former Boise State University Football players and also helped St. Luke's cancer patients. The camp was presented in partnership with GoodEatz and St. Luke's, and 25 percent of the proceeds were given to the St. Luke's MSTI Twin Falls cancer patient emergency fund. By the way, the term "GoodEatz" was coined by several former BSU football players who used it to describe a good day on the field or in the classroom.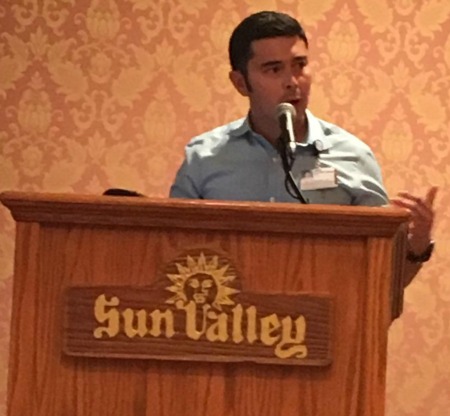 Supporting Research
Research is an integral part of MSTI's success and philanthropy is vital in order for research to happen, according to Deborah Jones, senior manager of clinical research at MSTI. It is labor-intensive and takes people and technology to bring forward clinical research opportunities to patients.
The resources required behind the scenes of a trial often go un-noticed, but without them the trial wouldn't exist, Jones said. People develop the study for a trial, get the study approved, implement the study across multiple cancer centers and get a cross sampling of patients.
"All of that really adds up as far as dollars go," Jones said. "We couldn't do it without them, quite honestly. We couldn't continue to grow our program."
MSTI is fortunate to have numerous supporters funding research, including the following.
Since 1989, Betty Hise for Cancer Research has supported MSTI research, contributing more than $190,000 to various studies. The foundation is named for a woman who was a champion for cancer research until her death from breast cancer in 1987. Betty Hise was the wife of Elks Past Grand Exalted Ruler Frank Hise, and after her death the foundation was created to honor her memory.
Founded in 1976, the Killebrew-Thompson Memorial golf tournament is now one of the leading fundraisers of its kind for cancer research and is one of the single largest annual donors to St. Luke's MSTI. The tournament, which celebrated its 40th anniversary in August 2016, has raised $7.7 million for cancer research and St. Luke's MSTI since 1976.
Jack's Classic was created in memory of Joseph "Jack" Cilek, who had hepatosplenic T-cell lymphoma and passed away in the fall of 2014 at the age of 20. The annual tournament, which is held in July, raised more than $85,000, bringing the total to nearly $225,000 to date. Jack's father, St. Luke's Vice President of External Relations Jeff Cilek, spoke to participants at an event in 2016 and explained why funding is so critical for cancer research.
"The only way to address this is through research," he said. "More research. Lots of research."
There are many ways to give at St. Luke's. Learn more about how you can make a difference by viewing giving options for donations.