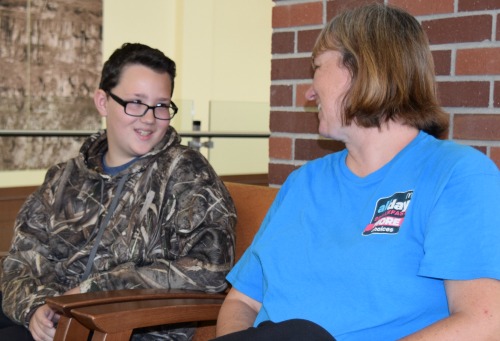 Duane Dudley is 13 years old. A few years ago, Duane was diagnosed with pre-diabetes and was referred to St. Luke's Youth Engaged in Activities for Health (YEAH!) Program by his doctor.
St. Luke's YEAH! Program focuses on children between 5 to 17 years old in the 85th percentile or greater for BMI and their families. It highlights healthy eating, physical activity, and positive behavior changes. Programs are available in Magic Valley, Wood River and Treasure Valley, and run for 8 weeks or 12 weeks depending on the participant's goals.
Since joining, Duane learned many skills that are inspiring him and his family to live a healthier lifestyle.
"It was fun and active. You get to know a lot of people," said Duane Dudley. "I'm outside more. I'm more active."
His mother, Clorinda, is a single, working mom. She explained that this program helped her to learn how to prepare healthier dishes and it served as a great reminder to be more on the go.
"My child gets up and motivated. He has a lot of fun in the YEAH! Program," she said. "We work together on it. It's not just him. We do it together."
St. Luke's Magic Valley's Youth Engaged in Activities for Health (YEAH!) Program is organizing a fun walk/run at 10:30 a.m. during Kids Fest. The run is free for children and there is a suggested $5 to $10 donation for adults.
St. Luke's is a sponsor of Kids Fest, hosted by KMVT-TV. The event is happening on August 26 from 10 a.m. to 2 p.m. at the College of Southern Idaho by the Herrett Center.
Thousands of families attend Kids Fest and visit different booths, including St. Luke's booths. These booths each include an interactive aspect for the children to take part in, like a basketball toss or a demonstration of eating healthy.
"We are a community-based program so we really want to be a part of Kids Fest because that is our whole focus. Kids in our community and encouraging healthy changes," said Kyli Gough, YEAH! Coordinator, St. Luke's Magic Valley.
Encouraging healthy changes one family at a time.
Watch this video to learn more about the Dudley family.