St. Luke's Doctor Garners Acclaim for Art Painted with Unused Medical Supplies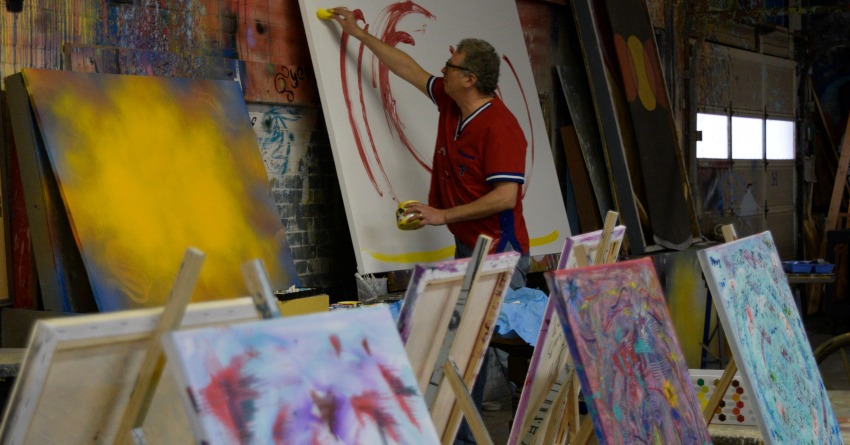 Dr. Jacob Neufeld uses expired medical supplies to paint pictures, and his work has captured interest in the art community.
By Anita Kissee, News and Community
Dr. Jacob A. Neufeld starts every painting with a circle, but never lets a brush touch his canvas. The abstract strokes, scratches, splotches and splatters are applied in an unexpected way. Inside his art kit you'll find scrub brushes, swabs, needles, scissors, syringes, clamps, sponges, operating room tools and even a central line kit. They're all expired medical supplies Dr. Neufeld salvaged around St. Luke's Hospital in Boise.
"The operating room has old damaged tools that they can't use in the OR anymore, so I go down there every couple weeks and they let me take a couple," Dr. Neufeld said.
Although his eye-catching contemporary art is making "Dr. J" (as he's known in the art world) more well-known, his full-time job is medical director for pediatric rehabilitation at St. Luke's Children's Hospital. Through inpatient and outpatient care, he helps children and teenagers with conditions like cerebral palsy, muscular dystrophy, spina bifida, spinal cord and brain injuries. His focus is on his patients' quality of life and helping them regain the ability to function as independently as possible. He is Idaho's first and only fully dedicated pediatric physiatrist.
"When you help a child you're doing something that impacts their entire life afterwards," said Dr. Neufeld.
That is what he tries to do with all of his patients, but with that responsibility comes a certain amount of stress. Many children have chronic debilitating diseases and acute trauma that is life-altering.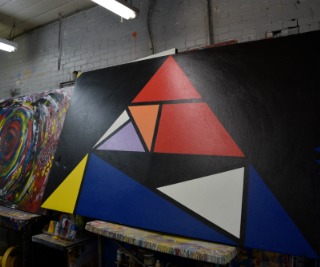 Two years ago, Dr. Neufeld unexpectedly discovered the outlet he needed to balance the pressures that can face a physician. During a First Thursday art event in Downtown Boise, he was drawn to an oversized splatter painting on the wall at the Boise Creative Center. The following night Dr. Neufeld signed up for a Friday night painting party.
"And it was amazing," recalls Alex Vega, owner of the art studio. "We had these small canvases available and he said, 'hey could I upgrade my canvas to something that size?'"
Over the next few months, Dr. Neufeld took private lessons from Vega and became a regular fixture at the weekly painting parties. Vega says he helped guide Dr. Neufeld's progression from novice to skilled artist, then watched as he transformed again relying only on medical devices to apply the paint and create a unique depth to his art.
"It really brings across a quality product, something that is really absolutely original and I've never seen before," raved Vega. "There's not really a marriage of medicine and art like that. It's usually two demographics that never coincide and I think it's really beautiful."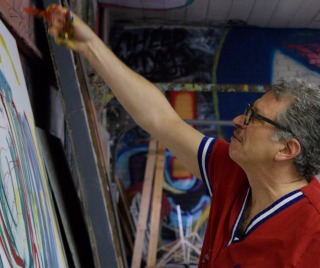 "It's different. Everyone uses paintbrushes. This is totally new," Dr. Neufeld said. "This is a new genre of art. This is a new movement in art and medicine. No one's ever done this before."
Through experimentation, Dr. Neufeld says he's learning how different medical tools can work together to create such varied textures and unusual colors. In fact, he says he's discovering new hues he never paid attention to before.
"I never really spent any time painting anything except maybe a room in my house," Dr. Neufeld said. "My wife is a photographer artist and always goes to museums. She would take me along and I would be like, I'm not going to do that. I didn't really appreciate it, or understand it."
Dr. Neufeld says his art accessed the creative side of his brain he never used before this, and didn't really comprehend that he had. That's yielding another unexpected benefit to his mental health on stressful days. "I lose myself in what I'm doing. I don't think about medicine. I don't think about the kids that aren't doing so well. It's totally unrelated to what I do in the hospital."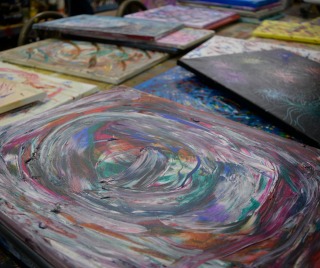 Steve Reames with the Ada County Medical Society was so inspired by Dr. Neufeld's work, the organization recently hosted an art exhibit featuring physicians, including Dr. Neufeld. Reames says he hopes to inspire others working in the medical profession to utilize whatever creative outlet speaks to them and allows providers to escape their left brain.
"Sometimes I look at art and have a hard time, thinking, what the heck does that mean? I'm so linear in my thinking, and I think most doctors are very linear in their thinking. I have one physician who says he thinks physicians suffer from a chronic lack of imagination in solving the issues so many face today," explained Reames. "To get them looking at something that's not in a box or necessarily linear, isn't necessarily representative of reality, and maybe avant-garde like Dr. J's work, I think it's great."
Dr. Neufeld's new passion has pushed him to paint large pieces that now hang in various places around Boise, including the foyer of Ballet Idaho. He's even using his talent to help local non-profits by donating his works for charity auctions. In a short time, Dr. Neufeld's art has helped to raise several thousand dollars for Children's Hospital, the Ronald McDonald House, Camp River Run, Make-a-Wish, Children's Home Society and many others.
As for what's next? "I think really the options are limitless," said Vega. "Can we say Guggenheim? Can we say Museum of Modern Art? Can we say Boise Art Museum? There are definitely options. Dr. J's got a vision."
Boise Creative Center will display Dr. Neufeld's art in the gallery through First Thursday on May 4. You can also see more of his art on his Facebook page.