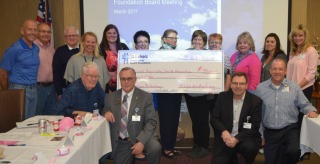 3-D imaging advancements in mammography technology make early and accurate detection of breast cancer easier than ever before. The equipment takes images of the breast from multiple angles (similar to a CT scan) and compiles the images into a 3-D image that radiologists can look through in slices.
The St. Luke's Magic Valley Health Foundation recently received a donation from the St. Luke's Magic Valley Auxiliary that will help fund the purchase of a new 3-D mammography machine.
Rosemary Fornshell, St. Luke's Magic Valley Auxiliary president, presented the $50,000 donation on March 23.
Fornsell and Volunteer Services manager Kim Patterson approached the St. Luke's Magic Valley Health Foundation Board about the project, and the idea was met with enthusiasm. Since the board votes on how the money raised will be spent, they decided to bring the decision to all of the volunteers working at St. Luke's Magic Valley. They went into the meeting with the idea of donating $25,000, but the volunteers suggested donating $50,000 to the campaign.
"It's been awhile since our last big project," Fornshell said. "There is stress involved if you need another mammography reading and waiting for a potential false positive is stressful, so we wanted to donate to the purchasing of this equipment."
Fornshell said the auxiliary is dedicated to raising funds to benefit St. Luke's Magic Valley patients, patient families, staff and the Magic Valley community.
"It is not only neat to see the final result of projects, but it makes volunteers proud," Fornshell said. "You volunteer to have purpose and investing in something like a mammography machine shows purpose. Every day, we are meeting patients and that is purpose too, but being able to have tangible equipment, that is wonderful too."
National Volunteer Week is celebrated April 23 through 29. There are 170 volunteers at St. Luke's Magic Valley. In 2016, these volunteers contributed 33,127 hours.
For fiscal year 2016, the St. Luke's Magic Valley Auxiliary donated $45,500.
The auxiliary raises funds through different avenues. There are special projects like drawings, plant sales, and book sales. But the main revenue stream is the gift shop.
Other projects funded by the auxiliary include the Inpatient Rehab Unit, St. Luke's MSTI front lobby, same day surgery balloons to children, and comfort carts.
The auxiliary also gives money to scholarships at the College of Southern Idaho for health care related majors.
For more information about St. Luke's Magic Valley Auxiliary, please contact Kim Patterson, manager of volunteer services, at 208-814-0861 or email [email protected].