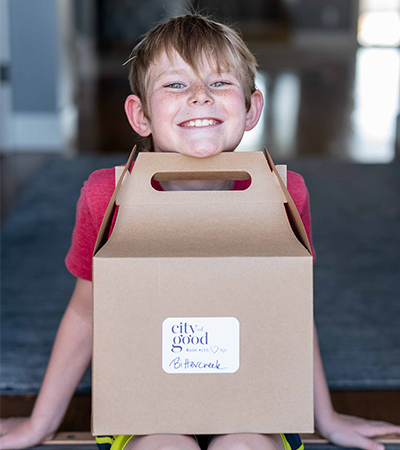 Photo courtesy of City of Good. 
One sector hit particularly hard by the spread of COVID-19 was the food service industry.
Restaurants closed. Workers lost their jobs. Hunger spiked.
A band of well-known Boise food service leaders and business experts came together to figure out how they could help. They formed City of Good, a new nonprofit organization uniquely built to address community needs.
"We were born during the pandemic crisis," said Cathy Knipe, City of Good's first employee and current chief operating officer. "Restaurants were having to shutter and lay off workers, so those people were experiencing food insecurity for the first time.
"At the same time, in March 2020, a lot of the local farm produce was (coming into) season and those producers and farmers were then going to lose access to those restaurant markets because they were closed."
Knipe and the City of Good board of directors, a who's-who of local restaurateurs, chefs and entrepreneurs, worked with dormant eateries to reopen their kitchens and use that fresh produce to make meals for anyone in need.
To accelerate their efforts, the nascent nonprofit applied for and received a Community Health Improvement Fund grant from St. Luke's.
"Community partners from across our region are finding new and innovative ways to support people and improve health and well-being," St. Luke's President and CEO Chris Roth said.
"Funding their efforts as part of our mission is critical to ensuring people have the opportunity to live their healthiest lives."
The CHIF grant helped support the creation of "weekend fuel kits" to provide healthy, nutrient-dense food to hungry kids within the Boise School District. Local restaurants at risk of losing business during the pandemic were compensated to prepare the meals utilizing fresh produce from local farms and producers.
The St. Luke's grant ultimately helped to produce 3,000 meals over the past year.
"For us to receive a grant from St. Luke's, especially in our first year of us existing, it served as seed money for us and it was so meaningful," Knipe said. "It helped legitimize City of Good and because of that, we are still around today."
St. Luke's recently renewed funding for City of Good, one of more than 70 organizations across Idaho awarded a CHIF grant this month. St. Luke's Magic Valley provided CHIF grants to 23 additional organizations, with more grants expected to be awarded this coming spring in the Twin Falls area.
Physicians, public health experts, volunteers from the health system's community boards and others review each grant proposal.
St. Luke's prioritizes funding for organizations that are addressing the significant health issues identified in St. Luke's Community Health Needs Assessments. These issues include obesity, diabetes, mental health, suicide prevention and more.
City of Good, equipped with additional funding, plans to make meal kits for an even broader audience.
The organization is coordinating meals for kids at the Interfaith Sanctuary shelter. The organization is also partnering with the Idaho Office for Refugees and Neighbors United to help feed new refugees from Afghanistan.
While City of Good continues to focus on food insecurity, Knipe said the organization keeps an eye on other potential needs and emerging challenges in the community.
"While we are currently in the food insecurity space, we don't claim to be the experts and believe our role is to help address immediate needs where possible, food related or not," Knipe said. "What we are designed to do is be nimble and be an organization that acts as a connector in our community."
New CHIF grants in Wood River
St. Luke's expanded the CHIF grant program this year to provide funding to organizations in the Wood River area. New recipients include "I Have A Dream" Foundation — Idaho, Men's Second Chance Living and Higher Ground Sun Valley.
Grant funding will support efforts related to supporting under-resourced youth, providing safe housing and wraparound services for men in recovery, and increasing therapy opportunities for frontline workers.
"We are excited to bring Community Health Improvement Fund grants to the Wood River area," said Erin Pfaeffle, St. Luke's Wood River director of community health and engagement.
"We are leveraging this funding source to support and strengthen the work of some of our outstanding community partners — organizations that are making a positive impact on the lives of kids, individuals and families right here."
2021-22 CHIF grant recipients
Ageless Senior Citizens Inc.
Agency for New Americans
Alzheimer's Association, Greater Idaho Chapter
American Cancer Society
American Heart Association
American National Red Cross
Angel Wings Network, Inc.
Assistance League of Boise
Assistance League of Boise, Canyon County Branch
BabySteps of St. Michael's Episcopal Cathedral
Because Kids Grieve, Inc.
Big Brothers Big Sisters of Southwest Idaho
Boise Bicycle Project
Boise Public Schools Education Foundation
Boise Rescue Mission
Boys & Girls Club of Nampa
Boys & Girls Clubs of Ada County
Breaking Chains Academy of Development
Caldwell Wrestling Club
Camp Rainbow Gold, Inc.
Camp River Run Inc.
Cascade School District
CATCH
Children's Home Society of Idaho
City of Boise – Parks and Recreation Department
City of Caldwell
City of Cascade
City of Good
City of Mountain Home Parks and Recreation
Community Food Share, Inc.
Create Common Good
Dance Marathon at Boise State University
Elderly Opportunity Agency
Everybody House
Family Advocates
Family Health Services Corporation
Family Justice Center Foundation of Idaho
Fifth Judicial District CASA Program, Inc.
Filer Senior Haven
Genesis Community Health
Giraffe Laugh, Inc.
Girl Scouts of Silver Sage Council
Girls on the Run of Southern Idaho
Girls on the Run Treasure Valley
Helping Hearts and Hands, Inc.
Higher Ground Sun Valley, Inc.
Horizon's Lifestyle Education Team
Hospice Visions, Inc.
Idaho Academy of Family Physicians
Idaho Caregiver Alliance
Idaho Farmers Market Association
Idaho Hunger Relief Task Force, Inc.
Idaho Immunization Coalition
Idaho Suicide Prevention Hotline
Idaho Voices for Children
Idaho Walk Bike Alliance
Idaho Youth Ranch, Inc.
Idaho Zoological Society, DBA Friends of Zoo Boise
"I Have a Dream" Foundation – Idaho
Interlink Volunteer Caregivers, Inc. DBA IVC
Jannus, Inc.
Jayden DeLuca Foundation
Jerome County Senior Citizens Service Area, Inc.
La Posada, Inc.
Learning Lab, Inc.
Legacy Corps
Life's Kitchen
Living Independence Network Corp. (LINC)
Magic Valley Area Humanitarian Center
Magic Valley Pediatric Cancer Coalition
Marsing Joint School District
McCall Nordic and Biathlon Ski Club
Men's Second Chance Living (MSCL House)
Mountain Home Senior Center, Inc.
Nampa School District
Nampa Schools Foundation
National Multiple Sclerosis Society
OATS, Inc.
Parma Senior Center
Rays for Rare
River Discovery
Ronald McDonald House Charities of Idaho
Shepherd's Home, Inc.
Snake River Stampede for the Cure Foundation
Special Olympics Idaho
Surviving Hearts Cancer Support Group
Terry Reilly Health Services
The American Lung Association
The Jesse Tree of Idaho
The Mentoring Network, Inc.
The Salvation Army
The Salvation Army, Twin Falls
Third District Guardian Ad Litem program/CASA of Southwest Idaho
Treasure Valley Food Coalition
Twin Falls School District
United Way South Central
Valley Housing Coalition
Wellness Tree Community Clinic
West End Senior Center
Women's and Children's Alliance
Wyakin Warrior Foundation, Inc.