School children throughout Idaho are embracing the challenge to stay active as part of a fall initiative that unites elementary schools, city and community leaders, and St. Luke's.
The Mayor's School Walking Challenge encourages children from communities throughout Idaho to begin a walking routine, and many schools kicked off this year's challenge on Oct. 10.
In Boise, students at Pierce Park Elementary School helped kicked off their walking challenge with special guests: Boise Mayor David H. Bieter, St. Luke's Health System CEO and President Dr. David Pate, and St. Luke's Children's Medical Director and Administrator Dr. Kathryn Beattie.
In Jerome, 600 children celebrated a new ¼ mile path at Jefferson Elementary School. The path was a gift from the Jefferson PTO, Jerome School District Foundation, Lowe's, St. Luke's and a five-member team of community leaders who earned a prize in 2015 from the Mayor's School Walking Challenge.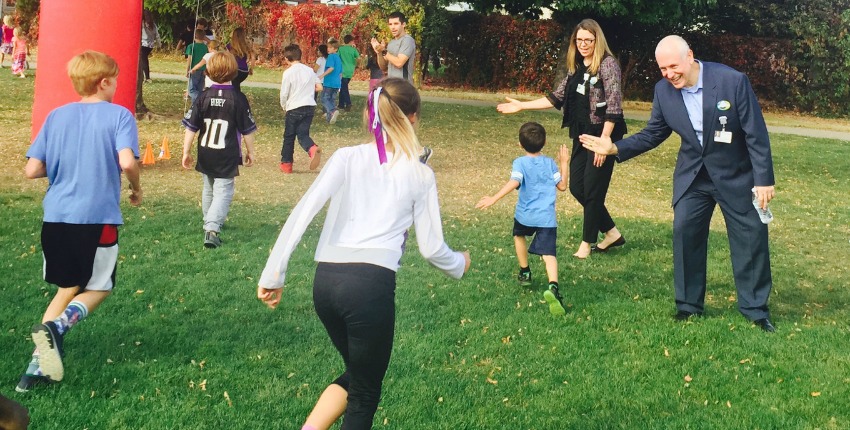 St. Luke's Jerome Site Administrator Curtis Maier said that investments in schools pay dividends throughout a child's lifetime. Additionally, school walking paths help meet the objectives of the St. Luke's Jerome Community Health Needs Assessment. Obesity and diabetes are the top priorities of the recently released CHNA.
"It's important that we educate children about healthy choices while they are young," Maier said. "Our greatest chance to be successful is to teach our children about the importance of a healthy lifestyle and the benefits of walking and exercise."
The annual Mayor's School Walking Challenge is sponsored by the Blue Cross of Idaho Foundation for Health's High Five Children's Health Collaborative, St. Luke's, and the Idaho Dairy Council. In 2015, a total of 26,745 students from 61 schools in southwestern Idaho walked nearly 178,000 miles. Idaho mayors from 25 communities logged 9,682 miles. Miles are logged through Oct. 31, and a cash prize is awarded to schools in each region with the highest average miles walked by each student.