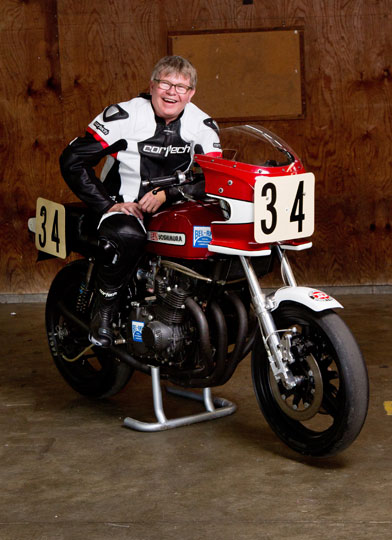 A two-time American Motorcyclist Association (AMA) Superbike champion. An AMA Motorcycle Hall of Famer. The 2016 AMA Vintage Motorcycle Days Grand Marshal.
Wes Cooley's accolades go on and on, but you won't hear him bragging about them. In fact, most of his co-workers have no idea.
Wearing scrubs and a smile on his face, Cooley, a clinical assistant, can be seen on the surgical floor of St. Luke's Magic Valley. His work began at the hospital 19 years ago.
His story begins well before that. At the age of 14, Cooley started motorcycle road racing.
"All of a sudden, I was going really fast and people were interested in me," he said. "I started riding for a company. Next thing I knew, I was winning events statewide and then worldwide. I was getting recognition that I never dreamt of."
Cooley was traveling the world doing what he loved, but in 1985, he suffered life-threatening injuries in a crash.
"I crashed head first into a dirt wall at a race track in California. I was going 140 mph," Cooley said. "I broke multiple bones and I was told that I would not be able to walk again. After going through months of rehab, I was back racing in a year and two months, but I never could go back to how fast I was before.
"It's a very dangerous job," he said. "In the 24 years I rode, I broke 27 different bones. I can name them all if you have time."
Cooley retired from riding superbikes 30 years ago, but a phone call earlier this year got him back in the saddle. He was asked to serve as grand marshal for this year's AMA Vintage Motorcycle Days. Cooley accepted the invitation and even rode a few laps at the July event.
When he returned from Ohio, he said he didn't realize the impression it would make on people.
"I was grateful to be able to get out there riding again," Cooley said.
He is also grateful for his own experiences receiving care, which give him a greater understanding of what his patients are going through during their time in the hospital.
"When someone comes in, whether they are 30 or 70 years old and they have a broken hip, I have broken my hip so I know what they are going through," Cooley said. "No one ever really likes to be in a hospital. If I can make them laugh and feel at ease, I am doing my job."
Patients believe he is doing much more than that; he has received countless thank-you notes.
Cooley continues to prove he is strong-willed and determined. He has diabetes and is beginning to lose his vision, but he said that won't stop him.

"I will work until I die. I will push everything to the limit," Cooley said. "For me, it's go as long as I can. That's why I went back to racing after that devastating race. I don't give up."

Cooley was inducted into the AMA Motorcycle Hall of Fame in 2004. He is featured on the American Motorcyclist magazine's front cover for September 2016 and profiled in a feature story.

Above all, Cooley is humble.