Childbirth and Parenting Classes Prepare Inmates for Parenting Success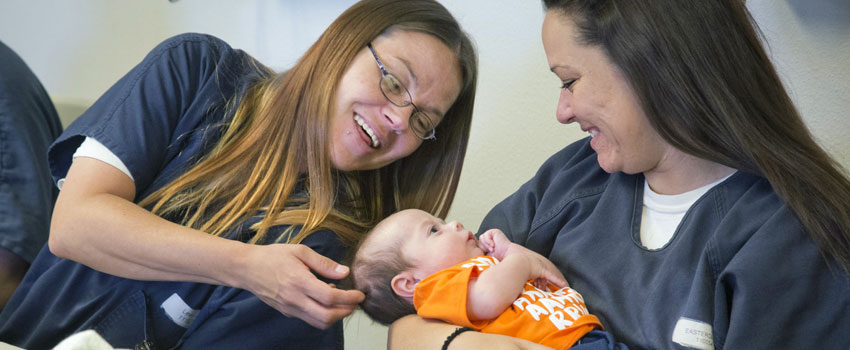 By Chereen Langrill, News and Community
Editor's Note: KBOI Channel 2 recently followed Samantha Campbell as she participated in the prenatal education class offered by St. Luke's at South Boise Women's Correctional Center (SBWCC). Campbell, who is an inmate at SBWCC, delivered her baby on Feb. 21, 2017 at St. Luke's Boise.
Dr. April Dawson's professional background is in preventive medicine and public health, but in the past decade serving as the site medical director at the South Boise Women's Correctional Center (SBWCC), she has seen very little care that emphasizes prevention.
That's why Dr. Dawson is thrilled by a new program coordinated by St. Luke's that provides prenatal education and parenting classes to inmates and the people who will provide care for inmates' newborns. Expanding the care and education of women who are incarcerated demonstrates St. Luke's mission, to improve the health of people in our region, and the impact extends beyond childbirth. Women in these classes learn about self-care to improve their physical and emotional health, and they are introduced to coping skills to set them up for parenting success when they are released from prison. The goal is to help the women emerge healthier and more confident so they can, in turn, raise healthier, more confident children.
"I have them for a short period of time, but the education they receive here they can take with them," Dawson said.
SBWCC is a minimum-security facility that can house as many as 284 women. Prior to the classes at SBWCC, pregnant inmates received limited education to prepare them for childbirth or parenting. Midwives who provided care for the women also provided limited education during their prenatal visits. In addition, the prison's medical office was a resource for education and support, according to Kate Shelton, Health Service Administrator for Corizon Health.
St. Luke's and Corizon Health share a commitment to patient-centered care and prevention, and their partnership allows both organizations to further their missions while also strengthening health care services at SBWCC. Dr. Dawson oversees the chronic care program at the facility and believes this new program, with its focus on prenatal care and education, will have a positive impact on the inmates, their children, and their families.
The classes, which began in August, were developed by Melissa Ward, St. Luke's Unique Families Program manager. Ward worked with Corizon Health, which manages health care for inmates at the prison, to develop an education program. The classes were developed in partnership with St. Luke's birth and parenting team and are also taught by members of the team. The first series of classes concluded in September, and another series will begin in early 2017.
The program allows the women to take control of their health during pregnancy and to be better prepared for childbirth. In addition, it provides parenting education for those who will care for the babies until their mothers are released.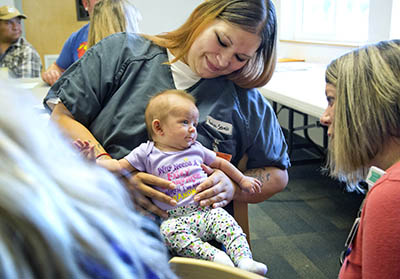 Cassandra Schmidt, 28, attended the classes offered in August and September. One lesson focused on baby care, and the babies' fathers and guardians/caregivers were invited to attend alongside the women.
Schmidt attended the class with her 2-month-old daughter, Gracie, and mother, Correne Ligon, who is caring for Gracie until Schmidt is released from prison.
Gracie is Schmidt's third baby, but she found the class valuable because of the opportunity to ask the instructor questions and to have an open dialogue with others attending the class. Many topics in the class included hands-on learning moments to help the participants learn how to apply the skills being discussed. Those without babies in the classroom practiced on life-sized dolls. Together, they practiced diapering, learned how to soothe a distressed baby by swaddling the infant, and reviewed proper car seat installation. They also learned how to recognize signs of postpartum depression and how to handle symptoms if they appear.
"I love this," she said. "This is really helpful. They haven't had something like this before."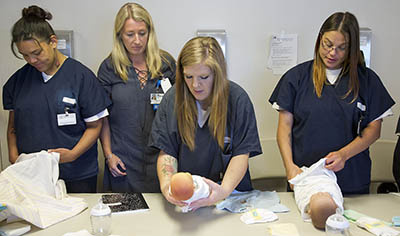 Education is just one element of a larger effort developed through the Unique Families Program that aims to improve the way St. Luke's cares for women who are pregnant and incarcerated. Ward worked in conjunction with SBWCC to identify gaps in policies and procedures, and several changes have been implemented to make the mother's childbirth experience at St. Luke's positive and calm.
Incarcerated women who came to St. Luke's in labor previously have been shackled while their babies were delivered. A recent St. Luke's policy change enables these women to have a more dignified birth experience. The change occurred after Ward realized that St. Luke's staff didn't have sufficient training regarding the unique needs of an inmate who is in labor and delivering her baby at the hospital.
"The OB and newborn staff did not have the education on the unique needs of the incarcerated patient, did not have specific workflows to ensure that we could meet that mother and baby's needs, and in reality, did not give the same level of care to the incarcerated women that every other OB woman and newborn was receiving," Ward said.
Thanks to additional policy changes, these pregnant women can now walk the hospital hallway (walking can help induce labor) and listen to music during the labor process.
Another significant change: Mother and baby can now stay together while the mother is in the hospital. Mothers previously wouldn't see their babies after delivery, and the newborn would remain in the nursery until a designated caregiver arrived to take them home.
Having contact with her newborn baby made a significant difference for Schmidt.
"I would have fallen apart if I wouldn't have been able to see her."
As part of the program, a nurse practitioner provides follow-up care for the women once they are released from prison. The goal is to help the women receive more consistent health care, ultimately helping them sustain better health as women and as parents.
"We are giving them the tools that they can carry forward," Shelton said.


St. Luke's Unique Families Program
All families deserve access to good care, and that is the intent behind St. Luke's Unique Families Program.
The program offers services customized to fit the unique and often sensitive needs of migrant workers, refugees, inmates, victims of sexual assault and domestic violence, and also supports adoption placement and surrogacy coordination. Families from around the world are attracted to St. Luke's facilities because of the specialized staff training and collaborative approach to care, said Melissa Ward, St. Luke's Unique Families program manager.
"We partner with a variety of local, national, and international organizations, such as adoption and surrogacy agencies, the Boise Women's Correctional Facility, community midwives and birthing centers, all to ensure that every family has the best possible experience," Ward said.
The need for the program continues to increase. From fiscal year 2015 to fiscal year 2016, there was a 157 percent increase in pregnant inmate admissions and an overall increase of 79 percent in the unique family population.
"Society changes, and health care needs to change with it, to ensure we're providing the best care and experience," Ward said. "That is why St. Luke's is nationally recognized, and why we provide the most comprehensive Unique Families Program in the nation."
Ward, who has led the program for the past year-and-a-half, was recently named the recipient of the Idaho Distinguished Nurse Award from the Idaho Nurses Association.