Construction crews were busy this month working on St. Luke's spaces in Nampa, Mountain Home and Boise.
Nampa Hospital

At the Nampa hospital location, interior work is happening on the bed tower, first-floor catheterization lab, second-floor operating rooms and administration and third-floor women's services area.
Weather permitting, exterior projects include installation of window frames, glass, brick and stucco, as well as grading, paving and underground utilities.
Work continues on the central plant and the shell of a 107,000-square-foot medical office building being built in anticipation of needs in fast-growing Canyon County.
More than 170 workers are making headway on the project, which is on schedule for completion in October 2017.
The $98 million, 87-bed hospital will include family suites for new mothers and their newborns, a newborn intensive care unit (NICU), children's services with outpatient subspecialists, additional heart services, an intensive care unit, imaging services, obstetrics and women's services.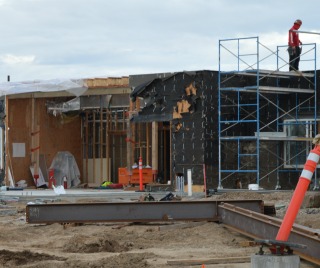 Elmore Emergency Department
Patients and staff members have quickly adapted to a new temporary hospital entrance built to accommodate the expansion of St. Luke's Elmore's Emergency Department.
The City of Mountain Home relocated a main water line from underneath the hospital to 6th Street and signage has been improved with input from patients, community members and staff.
The emergency room was last renovated and expanded in the 1990s. Built to serve 5,000 patients a year, it now serves more than 11,000 patients annually.
The project includes an expanded 10-bed Emergency Department with an attached ambulance bay and separate waiting area, expanded front entrance and a new lobby. Crews are on schedule to complete the renovation in fall 2017.
Children's Pavilion
Crews are preparing to excavate and build the foundation. A drilled pier shoring system is being used to minimize noise and reduce vibration in the neighborhood during the process.
Reusable doors, windows and materials from the former Treasure Valley Pediatrics building at the corner of Jefferson Street and Avenue B will be donated to local charities. Construction will begin with the underground garage, and the building will begin to form above ground in early summer 2017.
The $42 million, 85,000-square-foot building will include physician and rehabilitation clinics, a welcome center with central check-in, waiting rooms filled with natural light, interactive spaces, a rooftop garden and outdoor play deck, a healthy living center with a teaching kitchen and the underground parking garage. A sky bridge will provide safe, direct access above Avenue B to St. Luke's Children's Hospital.
How you can help
Fundraising continues for all three projects. For more information, please contact the Foundation at [email protected].