A new grant is enhancing a growing effort to build brighter futures for Idaho children with behavioral health issues by expanding access to care.
The two-year, $420,000 Community Health Initiatives (CHI) Grant supports four evidence-based intervention training programs. Through the program, primary care providers receive additional training to treat young patients who have behavioral health issues. The expanded training makes it easier for young people to find the help they need in Idaho, where there is a shortage of mental health providers.
The grant, awarded by Optum Idaho in partnership with the Idaho Department of Health and Welfare, supports St. Luke's Behavioral Health and the REACH Institute in a statewide effort to help children with serious emotional disturbance.
According to Optum data, in 2015 approximately 20,000 Idaho Medicaid beneficiaries under the age of 18 received services for at least one serious emotional disturbance, such as disruptive behavior disorders.
When mental health is unmanaged or untreated in children, it is more likely to remain a concern when those children become adults. The 2016 St. Luke's Community Health Needs Assessments (CHNAs) identified mental health as a significant health need in communities throughout St. Luke's footprint. The CHNAs, released in September 2016, help St. Luke's identify and address the most important health needs in the communities the system serves.
The availability of mental health providers in Idaho places the state among the lowest in the nation, according to the CHNAs. In 2011, Idaho's rate of psychologists was 10.7 per 100,000, while the national average was 30.7 per 100,000.
Children with disruptive behavior disorders are more likely to abuse drugs and alcohol, have anxiety or depressive disorders and are more likely to be involved in the legal system. They are at increased risk for suicide and as adults, they face worse health care and socioeconomic outcomes.
Children in this group are initially healthy but have clear risk factors for chronic and more costly health problems down the road. Early, evidence-based interventions are less costly and can more positively influence the trajectory of many children and families affected by disruptive behavior disorders.
The grant proposal, submitted by the St. Luke's Health System Behavioral Health team, addressed clinical interventions for children with serious emotional disturbance. The funding covers the program through October 2018.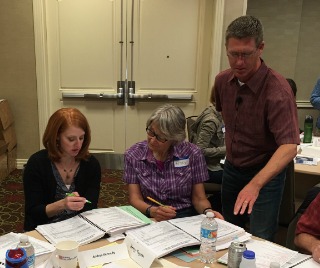 REACH Institute Training
The intervention training program funded through the Community Health Initiatives grant is facilitated through the REACH Institute and targets mental health therapists who serve children and families. REACH is a non-profit education center that empowers and trains care providers in order to improve the mental health of young adults and children with emotional and behavioral challenges.
Implementation of the two-year program began in October, and the goal is to launch training in Boise in December.
As many as 20 therapists at a time will receive the six-month training using the Coping Power Program, a preventive, evidence-based intervention delivered to at-risk children and adolescents. Originally developed as a school-based program, it has been adapted for delivery in community and mental health clinic settings.
The program builds on the two-year relationship between St. Luke's and the REACH Institute. More than 70 pediatric primary care providers have already been successfully trained to become more comfortable with assessment and management of children and families affected by mental illness. Partnering with REACH and Optum of Idaho enables St. Luke's to continue making a difference in the lives of Idaho children and their families.
St. Luke's Children's Behavioral Health Video
View this video to learn more about how providers are working to extend resources for treatment of pediatric patients with behavioral health needs.