Editor's Note: Chuck Malloy of Boise is a writer with Idaho Politics Weekly and a volunteer advocate with the American Diabetes Association. He wrote the following report about the history of the Sam Hartz Golf Tournament, an event that benefits the St. Luke's Humphreys Diabetes Center and began in May 10 years ago. Here is his report:
Sam Hartz, who had type 1 diabetes, died 10 years ago in a one-car accident that was attributed to his blood sugars running low. He is remembered by family and friends as a fun-loving guy who could light up a room and provide instant comic relief with his quick wit and practical jokes.
But at St. Luke's Humphreys Diabetes Center, his name means something else, thanks to the efforts of Sam's family and friends. May marks the 10th anniversary of a memorial golf scramble held in Sam's honor, and the fund-raising is expected to top the $250,000 mark. Lisa Gonser, community wellness coordinator for Humphreys, says the annual golf outing has helped provide a lifeline to tens upon thousands of people with diabetes.
This year's tournament, with 160 golfers and 25 volunteers, will be held Sunday, May 15 at Eagle Hills Golf Course. The golfing slots soon will be full, but there's plenty of room at the dinner and auction, which attracts nearly 200 people. That dinner will be held Friday, May 13, 6 p.m. at the Clubhouse Event Center, 2311 W. Potomac Drive in Boise.
Tony Hartz, Sam's older brother, says the growth of the events overall has been a pleasant surprise. "If Sam were looking down on us, I know how proud he would be."
Sam was only 42 when he died, which was much too soon for somebody who was so full of life. But his family, friends and co-workers at Albertsons – where he was a longtime employee – quickly turned their sorrow into a call to action.
On the day of Sam's service, four friends–Kurt Frisch, Abe Lloyd, Chad Compton and Steve Oldenburg–got together for a round of golf, which was appropriate since Sam loved to play golf. They decided to make the outing an annual event, and create a fundraiser. Kurt called Tony, who also thought a golfing fundraiser was a good idea.
"The first year, we thought it would be nice if we could raise a few hundred dollars, or maybe $1,000," Tony said. "We ended up raising $17,000."
Involvement soon went beyond those five golfers. Those helping with the event included Tony's wife, Laura; sisters Bert and Tam Hartz; longtime friend, Tim Maxwell; three nieces, Janae Korfanta, Jordon Korfanta and Ashley Leaton; and a nephew, Cody Hartz.
The Hartz golf event provides one of the largest contributions to Humphreys, according to Gonser. "It helps keep the doors open, so we can provide services. Our patients include children and pregnant women with gestational diabetes. People who have no insurance are able to come to us because of the money raised through the golf tournament and other contributions."
One of the big beneficiaries is the Don Scott Diabetes Family Camp for children and families, held annually at Bogus Basin.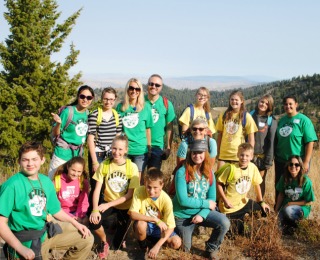 "Children with type 1 diabetes and family members are able to come to Bogus Basin at little, or no cost," Gonser said. "This is our fifth year, which means that at least 250 family members have benefitted from the golf event."
Diabetes education, which is not a profitable venture for Humphreys, depends on fund-raising efforts such as the Hartz golf scramble. "Without those donations, we could have closed years ago."
Beyond the diabetes camp and education programs, Gonser says she hears countless stories about how diabetes nurses and educators have helped people with nutrition, weight loss or insulin adjustments to help bring the disease under control.
"We average 4,000 patients a year, so we're talking about 40,000 people over 10 years," Gonser said. "Before Humphreys, people had to go out of state to get education … you tell me how much it costs to go to Portland, or Salt Lake City. That alone has saved tens upon thousands of dollars for families in Idaho."
Sam Hartz' legacy has a life of its own, thanks to his family and friends.
"These are amazing, unselfish people," Gonser said. "They have put in so much energy and time. It's about love and passion; there's no glory for them."