It's 2 p.m., and the lights are dim throughout the halls near the nursery and patient rooms of the Mother/Baby Unit on the third floor of St. Luke's Meridian. The softer lighting signals the start of Family Bonding Time, a daily two-hour event that allows new mothers to spend quiet, uninterrupted time with their newborn babies.
Studies show that new mothers and their babies benefit from dedicated rest. The Meridian program got its start because 11 nursing students from Boise State University decided to develop this project for a class in 2014. Julie Finney, an educator with the St. Luke's Mother/Baby Unit, teamed up with Jane Grassley, a St. Luke's educator and faculty member at the Boise State University School of Nursing, to fine-tune the project and implement it at St. Luke's Meridian. In addition, this is a three-phase research project that will be completed near the end of July, according to Finney.
"It is called Family Bonding Time because the idea is to keep baby and mother together, to allow the mother to breast feed, and allow the mother to get to know her baby," Finney said.
Finney and Grassley evaluated the activity at Meridian's Mother/Baby Unit and discovered there were numerous disruptions each day. New mothers receive visits from providers, nurses, lactation experts, car seat technicians, and more. In addition, carts cause noise while rolling down the hallways, and the doors that provide secure entry into the unit can be loud when they are opened and closed.
Those distractions make it difficult for new moms to rest and focus on their newborn babies. It can be difficult to breastfeed during the frequent noise and disruptions, Finney said. As a result, babies are fussy and new mothers are more likely to send their babies to the nursery in order to get some much-needed rest.
In addition to quality time for mother and baby, it also gives families an opportunity to bond. Lyndi Bower and her husband, Richard, recently spent a peaceful two hours with their new baby girl, Anna Jane Vee Bower, who was born at 7:58 a.m. April 25. Baby Anna's siblings and grandparents were also in the room to enjoy some quiet time together.
"It is nice to be able to relax and just visit," Lyndi Bower said.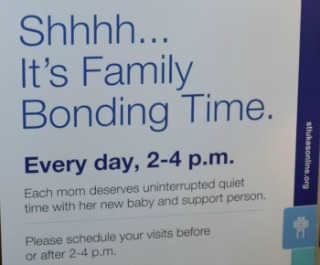 Every department in the hospital was contacted before the new program began in April 2016. Pediatric and OB/GYN offices were also notified to help providers plan visits outside of bonding hours. Signs placed throughout the floor instruct staff to take a different route during bonding hours in order to limit the amount of hallway noise.
Modifications extend beyond the hallways. Mothers are encouraged to shut down their electronic devices, such as cell phones and televisions, in order to reduce distractions. Two hours in a calm, controlled environment can make a significant difference, according to Finney.
"Mother and baby sleep better when they can rest together," Finney said.